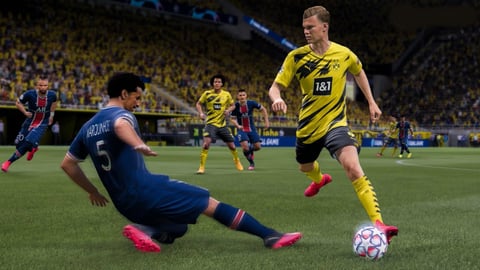 The hashtag #EAGate spread like wildfire through social networks yesterday. Apparently, there is a black market for FIFA 21 Ultimate Team where an EA employee sells FUT cards for several thousand US dollars.
"Hey kids, wanna buy Prime Icon Moments Ronaldo?" This is how you can imagine the black market in FIFA 21 Ultimate Team after rumors spread rapidly yesterday that an EA employee sells FUT cards for up to $2,500 on the internet.

EA Gate: What Happened?
EA Sports is adamant on continuously suppressing the black market trade around FIFA 21 Ultimate Team. First they removed the old FUT trading option, then came Price Ranges to keep the values in check, etc.
Again and again, the publisher has to answer to international courts because of FIFA 21 and assert again and again that you can't buy in-game items with real money. Apparently not, as the new EA Gate scandal reveals.
On March 10, several accusations spread like wildfire via Twitter, supported by screenshots and videos:
#EAGATE

A special thanks to @RiberaRibell for the picture , he did an amazing work
(continue in the comments)#fut #fifa pic.twitter.com/bJIg2rpWtI

— Arcade-Fut (@FutArcade) March 10, 2021
Apparently, an EA employee offered Prime Icon Moments and Team of the Year cards for real money via direct message. The best striker in FIFA 21, PIM Ronaldo, costs $2,500. Other packages containing three Icons or Icons plus a TOTY card were offered on the internet as well.
Canadian FIFA content creator Nick28T wrote on Twitter:
EA has said in court that ultimate team items cannot be purchased or sold for real money. If EA employees are actually selling PIMs to people, it could open EA up to legal troubles.

— FUT Watch (@FutWatch) March 10, 2021
What Do EA Say About This?
Even alleged buyers have spoken out. They were contacted via WhatsApp and confirmed the accusations. Nick also shows a video in which the card of PIM Gullit magically shows up as an untradeable object in a player's club.
Video proof?!? I mean this could just be an EA Dev though or an actual employee? Who knows anymore. It's all allegations, let's just hope EA makes a statement on this and stays honest with us. #FUT21 #FIFA21 pic.twitter.com/lzqGMDE5S3

— Nick CA (@Nick28T) March 10, 2021
None of the accusations have been proven yet. The publisher commented on EA Gate in a statement on Twitter and promised to investigate:
March 10, 2021
All that's left to do now is wait and see what happens.
Create a MyEarlyGame account now! It lets you customize our site and enter all our giveaways. You can also follow us on Instagram or join our Discord for a fun chat.
Original article by EarlyGame's Philipp Briel.