It's still a while before the new EA football game "EAFC 24" will hit the stores. But one thing is clear: the new FIFA will feature more players than ever before. We take a look at stars that retired already and who could come as new FUT Heroes. Last year, one or two players from our wish list made it among later leaks and ended up being in the game. Now, you can see which Heroes should be added in EA Sports FC.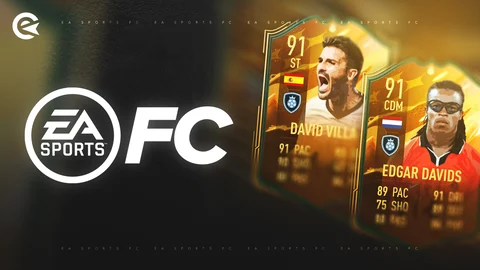 FUT Heroes caused quite a stir in FIFA 23. Since they provide better links than Icons in the new chemistry system, they are the new superstars in FUT. The concept of Heroes is easy to explain: they are former stars who have created special moments in their league and are still heroes there – but they didn't quite make it among the most legendary players. That's why we have the Icons, as you know.
With EA Sports FC appearing for the first time, EA will certainly present us some new special cards. The FUT calendar is heading towards Endgame in FIFA 23. Time for us to look into the future and ask ourselves: who will be new Heroes in EAFC 24?
EA Sports FC: New Heroes For A New FIFA
There are simply too many players who have already retired that need to be brought back onto the pitch. Prior to the launch of FIFA 23, our wishlist included Lucio, Claudio Marchisio, Yaya Touré, Ji-Sung Park, Landon Donovan, and Javier Mascherano, among others. As you probably know, they all are included as FUT Heroes now – fully deserved!

But to make a prediction is not easy at all. Who deserves a place among the FUT Icons and who "only" becomes a Hero? What rating do the heroes of yesteryear deserve? And which league would they give their chem boost to? We show you our top Hero candidates for EAFC.

6. David Villa | ST | La Liga
So... let's start with somebody that could be discussed. David Villa is a World Cup winner and European champion, and has won everything there is to win. So maybe he'll become an Icon after all?
We want to see the striker as a Hero for La Liga. After all, he played for Sporting Gijón, Real Zaragoza, FC Valencia, FC Barcelona and Atlético Madrid. He scored 185 goals in 353 league games in Spain. And he certainly is also a true hero in the MLS, having scored 77 goals in just 117 games for New York City. Outstanding. We don't have to tell anyone that he was ice-cold in the box.

David Villa is the one card I absolutely want to be released in FUT .

Actually he should be more an Icon than a Hero, but I love the Marvel Design and Heroes are better for chemistry.

Special thanks to @WetDesignFUT for this amazing design . pic.twitter.com/Ai2uHetyyJ

— FIFA23 Chem Expert (@TradingEi) March 15, 2023
5. Juninho | CAM | Ligue 1
The upcoming best free-kick taker in FIFA – well, EAFC rather. The Brazilian magician scored from every distance and position. His free-kicks were legendary. He played for Olympique Lyon from 2000 to 2009 and won the championship seven times with them. Back then... when PSG had nothing to say...
With a total of 77 free-kick conversions on highest levels, Juninho Pernambucano should get 99 on FK Accuracy.
4. Kolo Touré | CB | Premier League
Kolo, Kolo Kolo, Kolo Kolo, Kolo Kolo TOURÈ! There is no doubt that we also need Yaya's brother back in the game. Kolo Touré would be a central defender. He made 354 appearances in the Premier League, scoring 12 goals and 12 assists.

Throughout his career he played for Arsenal FC, Manchester City and Liverpool FC (ending his career at Celtic Glasgow). He won two championship titles – but his legacy remains in stadiums all over the world thanks to this chant:

3. Edgar Davids | CM | Serie A
His iconic glasses would mean extra work for EA, after all, they have to look as good as possible ingame. But we think EA will be able to do this – it was already possible in FIFA 05.
Positionwise, Edgar Davids would be central or central defensive midfielder and certainly represent the Serie A. He moved to AC Milan from Ajax Amsterdam in 1996. Two years later to Juventus and after a short stint at FC Barcelona, he also played for Inter Milan. His greatest success is and remains the triumph with Ajax Amsterdam when they won the Champions League in 1995. He became champion in Italy three times with Juve.

The FUT Marvel design by @goosegraphics_ is definitely awesome!

FUT Heroes Edgar Davids

How much would he cost #FUT23 | #FIFA23 | @goosegraphics_ pic.twitter.com/Jji1gw7uXl

— SAF Jamie (@futnorthwest) March 7, 2023
2. Gonzalo Higuain | ST | Serie A
The Argentine has left his mark in both La Liga (190 games – 107 goals) and Serie A (224 games – 125 goals). Should the striker end up as FUT Hero, we would want a dynamic player with an outstanding finish.

In 2007, he moved from River Plate to Real Madrid and after a very successful time in Spain to SSC Napoli in 2013. Juventus signed him for $95 million in 2016. After three championships with Real, he also won three in Italy with Juve. Afterward, he played for AC Milan and Chelsea FC. He ended his career on January 1, 2023, having last played for Inter Miami in the United States (29 goals in 67 MLS matches isn't bad either).

If you can't understand how much Higuain needs to return as Hero, you should watch this video. At that time, the Napoli fans were asked who should be a new FUT Hero in EAFC. The answer is clear – true story.

1. Mesut Ozil | CAM | Premier League
🎶 We want Ozil
Mesut Ozil
I just don't think you understand
He's Arsene Wegner's man
He's better than Zidane
We want Mesut Ozil 🎶
After the World Cup champion from 2014 retired in March 2023, we included him in our list as new number 1. Ozil is one of the players where you could also argue about whether he should be an Icon or Hero.
In his prime, he got a rating of 89 – his future Hero rating?
More New FUT Heroes For EAFC 24
Some more Heroes we'd really like:
| | | |
| --- | --- | --- |
| POS. | PLAYER | LEAGUE |
| CM | Mark Noble | Premier League |
| ST | Robin van Persie | Premier League |
| GK | Tim Howard | Premier League |
| CB | Jaap Stam | Premier League |
| RW | Arjen Robben | Bundesliga |
| LM | Zé Roberto | Bundesliga |
| CAM | Aleksandr Hleb | Bundesliga |
| ST | Ivica Olić | Bundesliga |
| LW | Florent Malouda | Ligue 1 |
| LB | Éric Abidal | La Liga |
| CM | Guti | La Liga |
| ST | Aritz Aduriz | La Liga |
| GK | Santiago Cañizares | La Liga |
| CDM | Daniele De Rossi | Serie A |
| CB | Walter Samuel | Serie A |
| CB | Christian Chivu | Serie A |
| GK | Júlio César | Serie A |
| CAM | Wesley Sneijder | Süper Lig |
This article contains affiliate links which are marked with [shopping symbol]. These links can provide a small commission for us under certain conditions. This never affects the products price for you.