The upcoming EA football game is transitioning from FIFA 24 to EA Sports FC 24. We'll keep you updated on all news and fresh features, as well as about the prices and important release dates for EA FC 24.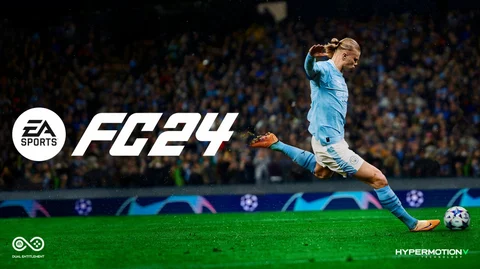 FIFA 23 symbolizes the culmination of an era, serving as both a historic and final FIFA installment ever produced by EA Sports. This year, the Canadian game developer will introduce EA Sports FC 24 instead of FIFA 24, marking the conclusion of their three-decade-long collaboration with FIFA.
In the days ahead, the global soccer governing body will take on the creation of their own game (further details on this can be found towards the end of this article), while EA has commenced its promotional efforts for EA FC 24.

To provide you with essential insights ahead of the game's availability on your platform, we've compiled crucial confirmed information and news regarding EA Sports FC 24, along with the most reliable and exhilarating leaks circulating.

EA Sports FC 24: Release Date & Ratings – What You Can Expect From The New FIFA 24
EA Sports FC 24 will be released on September 29. If you pre-order the Ultimate Edition, you can start on September 22 already.
The first EA game after the FIFA partnership will launch at the end of September again. Besides the new name, there is not too much changing. EA still has the rights to include original players, clubs, and leagues and is presenting new content for women's football.
The official player ratings have recently been revealed. Check out everything you need to know on that: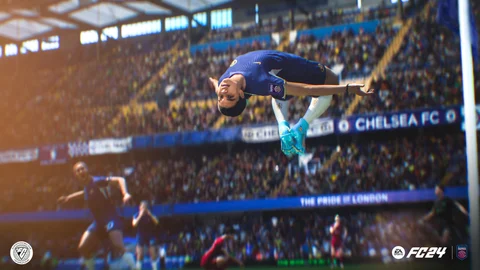 FUT Changes In EA FC 24: New Name, Women, New Heroes, And Many More Things

The most significant FUT change is that we will also have to say goodbye to this name. It got changed to Ultimate Team, but EA... no one is going to say "UT"...
However, the inclusion of women in FUT could be crucial for different reasons. There will be interesting new link possibilities and way more good cards. We are excited to see how good women will fit in the Ultimate Team meta. We probably won't see too many female goalkeepers, but they could be incredible dribblers.
The first new special cards in the form of Heroes are already out of the bag. With a fresh Champions League design and, for the first time, Women's Hero cards, there's also something new to look forward to.

Of course, you can also find all new Heroes in EA FC 24 on our site.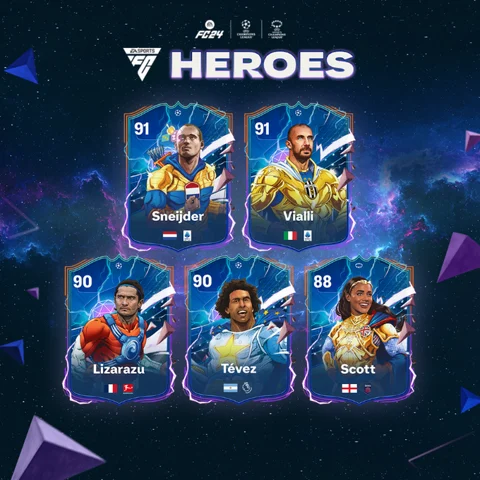 And they announced so much more.
With Evolutions, you can upgrade specific players and make them to your individual club legend. The transfer market will be shared among all next gen platforms, the chemistry system for Icons got revamped and there even will be a "claim all button" in Objectives.
We summarized the new features here:
EA FC 24 Icons
What about new Icons? Yes, we will see some new faces and names again; here's everything currently known about new Icons in EA FC 24:
EA already revealed that we'll get way less Icon versions in EA FC 24. There won't be Base-, Prime-, and Mid-Icons, but instead one Standard version for each player.
FIFA 24 Release Date: Infantino With Statement
For everyone that wants to remain loyal to the FIFA series: here is what you need to know!
The end of the partnership between EA and the FIFA has one main consequence: the name of the game changed.

We won't miss out on the real Champions League, authentic clubs or original superstars in the future. EA has secured rights for having original players through their FIFPRO licencing deal, and announced the cooperation with top leagues. The Spanish La Liga is even rebranded to La Liga EA Sports as of the upcoming season. Instead of paying millions to the FIFA to maintain the right to put those letters on the box, they now invest in leagues around the world. Smart.

There is also one big downside, though: the FIFA World Cup won't be part of EA games anymore. We can play the biggest tournament in football exclusively in the FIFA games. But... will we see a FIFA 24 this year?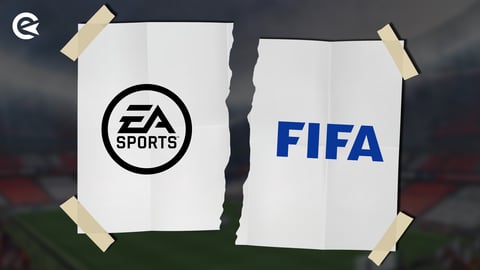 Well... we got rather bad news for everyone who is waiting for the next FIFA. In March 2023, FIFA-President Gianni Infantino spoke about their plans for the iconic game. And it seems like there will be no FIFA 24 at all.
After being re-elected as President, he said that they are "currently in talks with leading game publishers, media companies and investors to develop a new major FIFA football simulation game for 2024."
They have yet to confirm whether FIFA 24 will be a reality, but for now, it's very plausible that the series may resume with FIFA 25 as we did see any leaks for FIFA 24 whatsoever – and the new season is basically here already.
We've mentioned before that the World Cup will be exclusive to the FIFA game, which might imply that there won't be another FIFA game until FIFA 26. This, however, is mere speculation on our part, and we would appreciate it if FIFA would release their game sooner rather than later, thereby possibly compelling EA to elevate their game's standards.
Pre-order the EA Sports FC 24 Ultimate Edition And Start Playing On September 22!

Sponsored by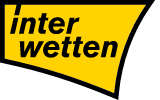 This article contains affiliate links which are marked with [shopping symbol]. These links can provide a small commission for us under certain conditions. This never affects the products price for you.