EA Sports FC is the new FIFA 24 and according to rumours there will be an own Ultimate Team mode for women. We explain everything about the new women's Ultimate Team!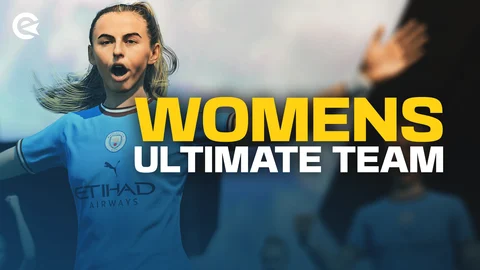 EA Sports and FIFA are going their separate ways in the future, meaning that FIFA 23 is the last of its kind from EA. In the future, the football simulation will be called EA Sports FC. With a new game, new opportunities present themselves. According to rumors, women will be able to play in the most popular game mode, Ultimate Team.
That would be very important for society and the sport. We show you everything we know about the topic of Women Ultimate Team in EA Sports FC. At the moment, more and more leaks about EA Sports FC are leaking out, as the game is probably already in the alpha test phase.
There will not only be a new online career mode, but also a revised transfer market, new heroes and icons as well as dynamic packs. You can read all this in detail in the following article:

Women Ultimate Team In EA Sports FC
In recent years, EA has invested more and more resources in virtual women's football, adding more leagues and players to the game. Sam Kerr was part of the FIFA 23 cover, and we can expect La Liga F for the new game in October.

The latest rumors are all about women's football. DekuGFX has reported on Twitter that there will be a Women Ultimate Team mode in EA Sports FC.
To what extent this source is trustworthy, we cannot say with certainty, that remains to be seen. That's why we are talking about rumors, leaks, and predictions. But what we can say is that EA invests more and more in the virtual women's football.
Most recently, FIFA 23 came with the Women's Champions League and new teams. An Ultimate Team mode for women would be quite conceivable, fair and a welcome change.
EA FC 24 WILL HAVE A FEMALE ULTIMATE TEAM MODE

ACCORDING TO LEAKS, EA FC 24 WILL HAVE THE ULTIMATE TEAM MODE WITH FEMALE SOCCER PLAYERS

OPINIONS?

FOLLOW ME FOR MORE LEAKS AND INFO!

AND IS APPRECIATED!!!#EAFC24 #FIFA24 #FUT24 #FIFA23 #FIFA #FIFA23LEAKS #LEAK pic.twitter.com/XwPUC24DeP

— DekuGFX (@DekuGFX_) March 12, 2023
EAFC 24: Will Women Make It To FUT In FIFA Successor?

It is not yet known what form WUT will take. There are at least three possibilities to include women in Ultimate Team.
One would be the current Ultimate Team mode as we know and love it (though it won't be called FUT anymore, since the "F" stands for "FIFA"). There would be no problem adding the women to the "normal" mode. For the most part, the women play in the same league structures as the men, and they have the same nationalities anyway.
It wouldn't be a big hassle to put women and men on the same Ultimate Team. Women and men could give each other chemistry points through their nation. The same could apply to a country's leagues, for example, male and female players in the Bundesliga could be linked. Clubs that are represented in both leagues, such as FC Bayern Munich or VfL Wolfsburg, could benefit from an extra chemistry boost.
In this way, the players get a big stage, which raises their profile in the community. The world's best female players should get the same rating as the best players in men's football. This way there wouldn't be such a one-sided meta as in FIFA 23, where you play against POTM Mbappé and Mid Icon Jairzinho in every game of the Weekend League.
Women In Ultimate Team As A Separate Mode
Furthermore, the women could get a completely separate Ultimate Team mode that has nothing to do with the men's mode. On the one hand, however, this would mean that it would need its own transfer market. And on the other hand, EA would have to maintain two different UT modes, whereas they are already overburdened with one.

However, this would give the women the sole attention they deserve. We would all like to play in a new FUT mode.
EA Sports FC: Women x Men Ultimate Team
A third option would be to include the women in the same mode as the men, except that you have to play them in separate teams, just as it is in reality.
There would be so many variations to make women essential for the mode. There are objectives with good rewards, for which you require a female team. Or tasks for token swaps. A separate Weekend League with women only. There are no limits to creativity here.

In whatever form – we are curious to see how EA will integrate women into Ultimate Team. In any case, they shouldn't just leave women's football on the sidelines anymore.
This article contains affiliate links which are marked with [shopping symbol]. These links can provide a small commission for us under certain conditions. This never affects the products price for you.