EA Sports will launch a new football game called EA Sports FC in the fall of 2023. The basic structure of the well-known FIFA series will probably not be changed too much, but after the split up between the World Football Association and the Canadian publisher, the questions arise: Which leagues will we get in the next game? Can we continue to play in the original competitions of Europe? EA has secured first licensing deals.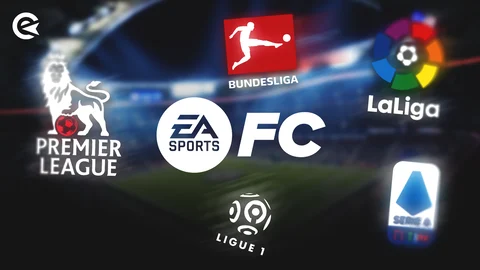 The race for licenses, exclusive deals and partnerships is on! Electronic Arts and the FIFA will not continue their work together in the future and are going separate ways. While it remains very exciting at FIFA, as there is no official publisher for FIFA 24 yet, EA is upgrading and securing first long-term deals with the big players of football.

There is no question that the whole thing is incredibly important: whoever has the more authentic game out there will win the fight for the best soccer simulation in the long run. We all want to play with original players, at real clubs and in real leagues, don't we?

So, in this article, you will find the most essential news and information about leagues in EA Sports FC. If you don't want to miss any important upcoming change, mode, or feature in EAFC, we have something for you:

EA Sports FC Leagues: EA Secures First Major Competitions And Top Leagues
Just imagine if we would get a new FIFA but PES style in the fall and instead of Lionel Messi, Cristiano Ronaldo and Kylian Mbappé we got random players with strange fantasy names.

Luckily for (most) superstars, that won't happen. Through the long-term extension with the FIFPRO deal, EA secures the rights to the presentation of the original professionals – which is good. And when it comes to leagues, things aren't looking too bad either.
Top Clubs Stay Loyal To EA – Extension With Premier League Until 2029
Because the elite of world football have already spoken out and will continue to be part of the EA product. In addition to the clubs Real Madrid, Liverpool FC, Manchester City, Tottenham Hotspur, Atlético Madrid, Borussia Dortmund, Toronto FC and Austin FC, other entire leagues and competitions have been secured early on.

We are in the club.
More information in July 2023.#EASPORTSFC pic.twitter.com/ZrsABMu1tZ

— Real Madrid C.F. (@realmadriden) May 10, 2022
These include the Champions League, the Bundesliga, La Liga and the Premier League. The deal with the English Super League cost EA almost $600 million – or in other words: 0.5% of their income from Ultimate Team (just kidding, in case that wasn't clear).

Not only does EA buy the leagues for their game, but also sells their name to the leagues. From the 2023/24 season, the first division in Spain (Primera División) will be called La Liga EA Sports FC. So, it works that way too...

Overall, there probably won't be too much shrinkage for included leagues. On their own homepage, EA published the following statement:
Our unique licensing portfolio of more than 19,000+ players, 700+ teams, 100+ stadiums and 30 leagues that we've continued to invest in for decades will still be there.
Which is nice... but what about new leagues and competitions?
New Leagues In Next FIFA: What Changes Can We Expect?
One entirely new league is confirmed already. When it comes to women's football, EA still has a lot of room for improvement, and they want to change that. With La Liga F, another women's league is coming to the EA family and should be included in EA Sports FC.
But we might also have to deal with the loss of some favorites – which wouldn't be a novelty either: in FIFA 23, the Mexican BBVA MX and the Japanese J-League were removed compared to the previous year. You may also remember Piemonte Calcio – that was the fake name of Juventus from FIFA 19 to FIFA 22. Nobody wants something to happen like this to their own club.
We can say this much: you will have to deal with changes anyway. Be it some new leagues that will be included or even painful elimination from top club or competitions. It is still quite a while until fall, and we won't get more (official) information until "July 2023".

We'll keep you updated on the most important licensing deals. Which league do you definitely want to see in EA Sports FC?
This article contains affiliate links which are marked with [shopping symbol]. These links can provide a small commission for us under certain conditions. This never affects the products price for you.