EA Sports has lost the naming rights to their flagship game FIFA. The next game will be released in autumn 2023 under the name EA Sports FC. What about the licenses and rights for the superstars? Will we still be able to play with the original Kylian Mbappé, Lionel Messi and Cristiano Ronaldo in the future? EA took care of this a while ago...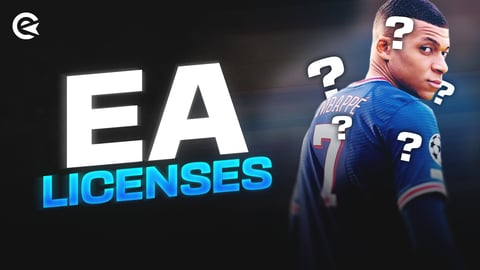 It was a message like an earthquake, at least for us long-time fans: EA Sports will lose the rights to name their product 'FIFA'. With FIFA 23 we got "the last FIFA of all time". It sounds scary, but it's not that bad.
The legendary publisher has been making FIFA games since 1993. With the end of the current licensing rights, fans have already been speculating: what is actually going on with the FIFA? Or to put it another way: Will FIFA 24 even exist? And what about the game from EA? Will we also lose original leagues, clubs, and players?
After all, no one (shoutout to PES) wants to play with Kyle Muabbe, Luinel Massi or Christian Noraldo, we want to continue playing with our favorite players. EA already has an answer – which sounds very good!

EA Extends FIFPRO Deal – Secures Most Important Licenses
EA officially announced the extension of their deal with FIFPRO in October 2021. In the press release, the publisher emphasizes the importance of authenticity. We can only confirm that. With generated or random names for the players, the game would lose a large part of its strength.
The FIFPRO license agreement includes more than 65,000 professionals. Thousands of player names and graphics supported by the FIFPRO license agreement keep EA products authentic. Only their games have the original UEFA Champions League, CONMEBOL Libertadores, Premier League, Bundesliga and La Liga. Oh, btw: EA has secured the naming rights for the Spanish top division. From the 2023/24 season, its name will then officially be La Liga EA Sports FC.
"Our players regularly remind us that one of the most important aspects of an EA Sports experience is the deep immersion created through authentic use of the world's greatest leagues, teams and talents - it's how we continue to uniquely blur the lines between the digital and physical worlds of football," said David Jackson, VP EA SPORTS Brand. "FIFPRO will continue to be an important partner as we build the next generation of EA SPORTS football experiences for players around the world."
"We are extremely pleased to extend the long-term relationship with EA Sports, a true partner that's committed to create the best interactive experience for football fans worldwide," stated Theo van Seggelen, Statutory Director of FIFPRO Holding.

Well, we're curious to see what we can expect in the upcoming EA Sports FC...
This article contains affiliate links which are marked with [shopping symbol]. These links can provide a small commission for us under certain conditions. This never affects the products price for you.