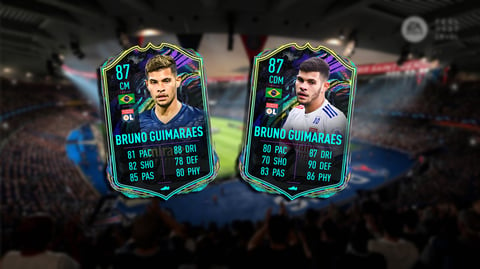 The Future Stars are the hype in FIFA 21 right now and there are of course some nice SBCs to match. One of those is Bruno Guimarães from Olympique Lyon who is available in two different versions. We have the cheapest solution.
Bruno Gimarães is the first FIFA 21 Future Stars SBC, and he comes in double! You have a choice of a CM or a CDM card, but whichever one you choose, we have the solution set.
FIFA 21 Bruno Guimarães Future Stars SBC Solution
Position: CM/CDM
Nation: Brazil
League: Ligue 1
Team: Olympique Lyon
OVR: 87
Weak Foot: 3 stars
Skill Moves: 3 stars
Price: approx. 240,000 coins
Expiry: February 12

.@brunoog97's future is so bright you're gonna need shades

His Player Pick Squad Building Challenge is now available in #FUT. #FIFA21 pic.twitter.com/JBMKPBjzVm

— EA SPORTS FIFA (@EASPORTSFIFA) February 5, 2021
At the end of the SBC, you have the choice between two different cards, both of which have their advantages. For our money, we'd rather go for the CDM one, but if you have positional needs, the CM is a fine choice as well.
The Cheapest Solution
In total you have to trade two teams for Bruno Guimarães:
Min. one Brazilian player, min. one TOTW player, min. 84 OVR, min. 75 chemistry
Min. one Ligue 1 player, min. one TOTW player, min. 85 OVR, min. 70 chemistry
Team 1
Costing just under 92,000 coins, this team features Sevilla's Fernando as our Brazilian player and Mathieu Debuchy from the current TOTW 19 as the In-Form.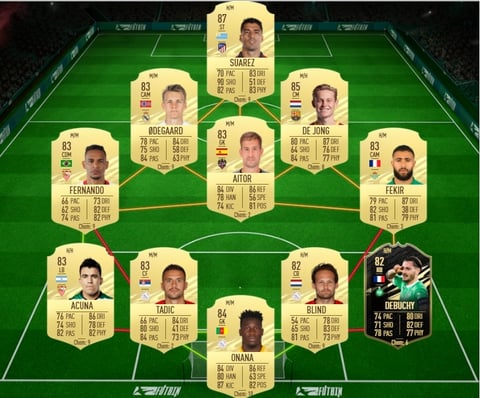 Team 2
This team can be built for around 150,000 coins. We mostly rely on Brazilians except for our two special cards - Ligue 1's Keylor Navas and TOTW 19's Tomáš Soucek.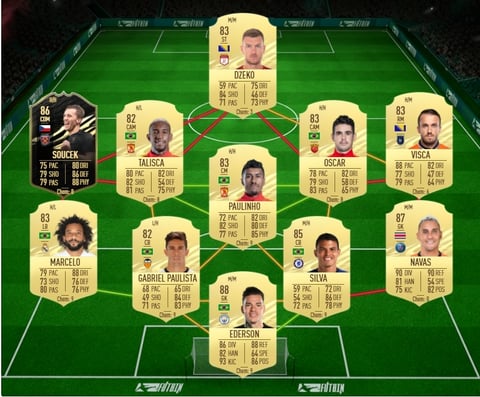 Join the MyEarlyGame family where you can customize your profile and be automatically registered for all of our giveaways. Then you can join our Discord to give us feedback or just chat with the rest of our community.