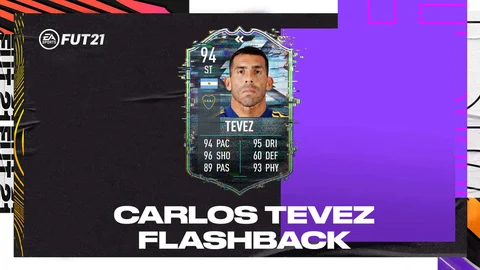 Carlos Tévez has recently announced his departure from Boca Juniors. In FIFA 21, Carlos Tévez has received a Flashback SBC. We have the cheapest SBC solution for all those who want to have a 94 card in their club.

Carlos Tévez is a real legend for Boca Juniors. The Buenos Aires club, like Tévez, is world-renowned, and the departure of the now 37-year-old is bound to hurt. Whether the Argentinian will end his career is not yet known. In FUT, however, his career has just begun with this Flashback SBC.

FIFA 21 Carlos Tévez Flashback SBC
Position: ST

Nation: Argentinia

League: Conmebol Libertadores

Team: Boca Juniors

OVR: 94

Weak Foot: 4 Stars
Skills: 4 Stars
Prize: ca. 220.000 Coins
Due to: June 11th

#GraciasCarlitos pic.twitter.com/zNbx8l39uj

— Boca Juniors (@BocaJrsOficial) June 4, 2021
Is the Carlos Tévez SBC worth it?
Carlos Tévez is an absolute machine as a flashback player, so if you can somehow fit this card into your team, you should definitely complete the SBC. The cost is about 220,000 coins.

Carlos Tévez Flashback SBC: Cheapest Solution
To successfully complete the Carlos Tévez Flashback SBC, you'll need to trade in a total of two teams worth 220,000 coins.

El Apache: Min. one Argentinian player, min. 84 OVR, min. 60 chemistry
Top Performance: Min. one in form or TOTS player, min. 86 OVR, min. 50 chemistry
Read More:
No matter if it's news, tips, info or Esports – with us you always stay on the ball. Only here can you find all the FIFA content you need! We regularly deliver the cheapest solutions to the most important SBCs! So if you don't want to miss anything, create your account onMyEarlyGame, take part in contests, and customize our site according to your taste!