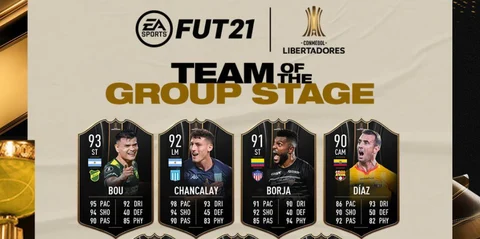 Get the stars from the FIFA 21 CONMEBOL TOTGS for your FIFA Ultimate Team now! We'll show you the new cards and give our thoughts on whether they could find a spot in your FUT squad or can simply serve as SBC material.
The TOTS promo phase in FIFA 21 is over. After the Ultimate TOTS with Messi, Ronaldo, Mbappé and co. put an end to arguably the most intense FIFA promo event of all time, it's time for the new content: the CONMEBOL TOTGS and the best players from the Copa Libertadores group stage.
FIFA 21 CONMEBOL TOTGS
The CONMEBOL TOTGS has the same problem as TOTS from smaller leagues: just a few players are linkable at all. One way to deal with this is to use the cards as substitutes. There are at least two or three players on this squad that can make a difference in a tight match.
FIFA 21 CONMEBOL TOTGS Players
GK: Gabriel Arias (Racing Club) - 87 OVR
RB: Alberto Espinola (Cerro Porteño) - 87 OVR
CB: Lisandro Lopez (Boca Juniors) - 89 OVR
LWB: Fabrizio Angileri (River Plate) - 88 OVR
CDM: Richard Ortiz (Olimpia) - 88 OVR
LM: Tomas Chancalay (Racing Club) - 92 OVR
RW: Diego Valencia (Universidad Católica) - 86 OVR
CAM: Billy Arce (LDU Quito) - 89 OVR
CAM: Damian Diaz (Barcelona SC) - 90 OVR
ST: Miguel Borja (Atlético Junior) - 91 OVR
ST: Walter Bou (CSD Defensa) - 93 OVR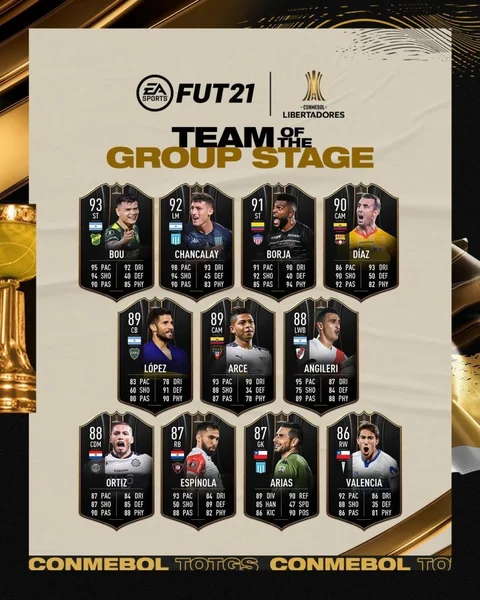 FIFA 21 CONMEBOL TOTGS: The Best Players
The highest overall rating in the CONMEBOL TOTGS goes to Walter Bou of Argentine club CSD Defensa. We would also like to point our finger towards Racing Club winger Tomas Chancalay and his 98 pace. Both are a good catch for virtually any FUT manager, but neither comes very cheap.
Create a MyEarlyGame account now! It lets you customize our site and enter all of our giveaways. You can also follow us on Instagram, or join our Discord for a fun chat.
Original article by EarlyGame's Lukas Scherbaum.