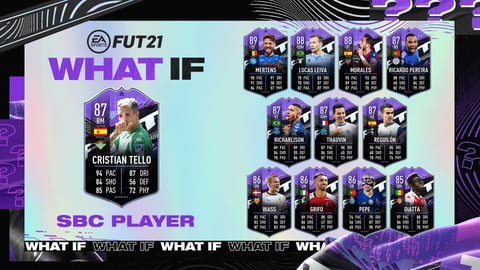 The launch of FUT What If Team 2 was complimented by an SBC for a strong right midfielder from La Liga. Cristian Tello could become special with an upgrade. Our SBC solution will show you how to get him cheap.
FUT What If Team 2 is here. Though not as good as Team 1, it still has plenty on offer. That includes the What If SBC for Cristian Tello. See how to win the Spaniard's card cheaply.
An Action Shot asking your opponent to hold that 'L'

A new #FUT "What If" Squad Building Challenge is now live in #FIFA21. pic.twitter.com/7DZt4Me27w

— EA SPORTS FIFA (@EASPORTSFIFA) March 5, 2021
What If Cristian Tello
Position: RM
Nation: Spain
League: La Liga
Team: Real Betis
OVR: 87
Weak Foot: 4 stars
Skilll Moves: 4 stars
Price: approx. 166,000 coins
Expiry: March 12
FUT What If Cristian Tello is amazing value for its money, especially on the back of some overly expensive FIFA 21 SBCs that were released these past couple of weeks: 94 pace, with shooting, passing and dribbling all in the mid-to-high 80s already put Tello in the top 5 at his position in La Liga.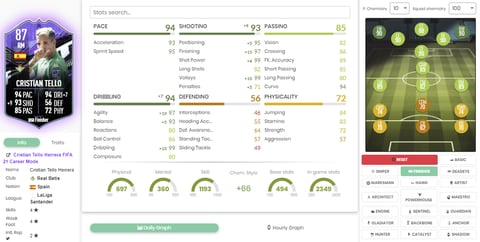 The Finisher chemistry style, which improves shooting and dribbling, make Tello a 90-rated player. If that's not enough to convince you, he is also almost certain for a +2 OVR upgrade, as his team Betis has a very favorable schedule ahead of them.
Do this SBC – is what we're essentially trying to say.
FUT What If Cristian Tello SBC Solution
FUT What If Cristian Tello costs around 166,000 coins, divided into three teams:
Min. one Real Betis player, min. one TOTW player, min. 80 OVR, min. 80 chemistry
Min. one Spanish player, min. one TOTW player, min. 83 OVR, min. 75 chemistry
Min. one La Liga player, min, one TOTW player, min. 84 OVR, min. 70 Chemistry
Team 1: Real Betis
Despite the TOTW requirement, we are just 18,000 coins behind after completing this squad. Unsurprisingly, the team is from La Liga. For the In-Form card, use Famara Diedhiou from the current TOTW 23 (or any other TOTW card from your club).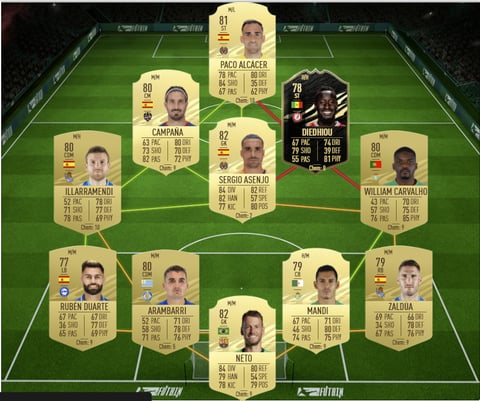 Team 2: Spain
Just under 40,000 coins are allotted to the second team. It is mainly composed of Bundesliga and La Liga players. Iker Muniain serves as the Spaniard, Nicolae Stanciu as the required TOTW card.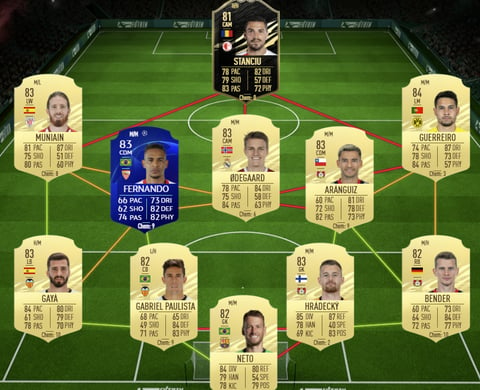 Team 3: La Liga
At 106,000 coins, this is the most expensive of the three teams. Here, too, you can combine quite freely. We opt for a hybrid team from La Liga and Ligue 1. Italian Alessandro Diamanti is the TOTW card.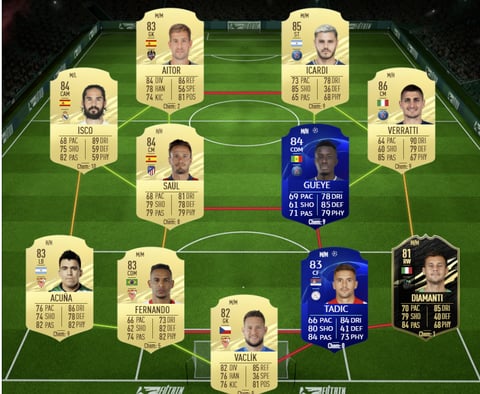 Create a MyEarlyGame account now! It lets you customize our site and enter all our giveaways. You can also follow us on Instagram or join our Discord for a fun chat.
Original article by EarlyGame's Philipp Briel.