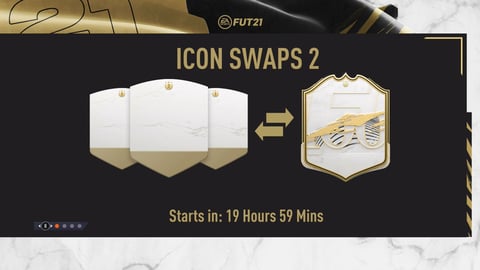 Icon Swaps 2 in FIFA 21 Ultimate Team will start already on February 19. The release has been confirmed and we have all information & details about the FUT event.
It is still unclear whether the FUT 21 Winter Refresh will start on February 19. What we do know is that the popular FUT Icon Swaps are already going into the second round tonight. We tell you everything you need to know about Icon Swaps 2.
Update from 20.02.
Icon Swaps 2 started
In contrast to the Winter Refresh event, the Icon Swaps 2 have actually started this weekend.
The following icons are included: A total of 6 FUT icons are available this time, three of them are already available in the brand new Icon Moments variant (the highest possible icon card in FIFA 21).
Roberto Baggio (94 OVR) – 17 Tokens
Emilio Butragueno (87 OVR ) – 15 Tokens
Laurant Blanc (89 OVR) – 13 Tokens
Marc Overmars (91 OVR) – 11 Tokens
Ashley Cole (89 OVR) – 9 Tokens
Deco (91 OVR) – 7 Tokens
Besides the icon cards, you can also invest your tokens in card packs and, with a little (a lot) of luck, get even better players.
2 tokens for the 81+ x25 pack
3 tokens for the 82+ x25 pack
5 tokens for the 83+ x25 pack
8 tokens for the base icon pack
9 Token for the mid icon pack
10 tokens for the mid or prime icon pack
12 tokens for the prime icon pack
14 Token for the 91+ Prime Icon Pack
16 tokens for the prime or prime moments icon pack
The first tasks and goals for Icon Swaps 2 will run until March 26. Currently, you can get a maximum of 15 tokens, more will follow with the second part of the event at a later date.
The second wave of ICON Swaps of #FIFA21 are in #FUT, including new pack options and ICON Moments players. pic.twitter.com/fPBt7OMbL9

— EA SPORTS FIFA (@EASPORTSFIFA) February 19, 2021
What Is Icon Swaps 2?
The first batch of FUT Icon Swaps started as part of the FUT Freeze event, and Icon Swaps 2 will begin on February 19.
You have the opportunity to unlock selected FUT Icons by completing certain tasks. Each Icon card in the Icon Swaps costs a certain number of so-called Player Tokens.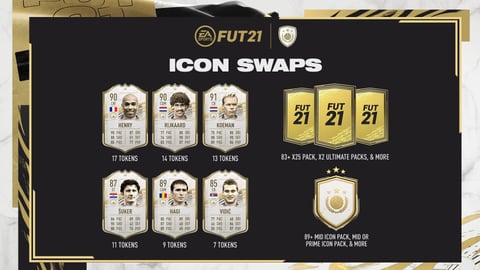 If you complete various in-game challenges, you will be rewarded with tokens. You will need these to get the coveted FIFA 21 Icon cards. The stronger the corresponding legend, the more Player Tokens are needed.
You can complete the tasks in the Friendly Match mode and within Squad Battles. You also have the opportunity to invest tokens in card packs and secure players who are not actually part of Icon Swaps 2.
When Does Icon Swaps 2 Start?
As the loading screen of FIFA 21 Ultimate Team shows, Icon Swaps 2 starts on February 19, at 7pm CET.
Which Icons Are Included?
The list of players you can unlock in Icon Swaps 2 is currently unknown. There are also no Icon Swaps 2 leaks yet, so we'll have to be surprised.
What About Icon Moments Cards?
The fourth and strongest versions of FUT 21 Icons, the so-called Prime Icon Moments cards, were leaked during the week, at least in terms of images. They will find their way into FIFA 21 soon.
EA Sports has not yet revealed whether the Icon Moments cards will be available at the start of Icon Swaps 2 or if they will in anyway be part of FUT Winter Refresh.
Create a MyEarlyGame account now! It lets you customize our site and enter all our giveaways. You can also follow us on Instagram or join our Discord for a fun chat.
Original article by EarlyGame'sPhilipp Briel.