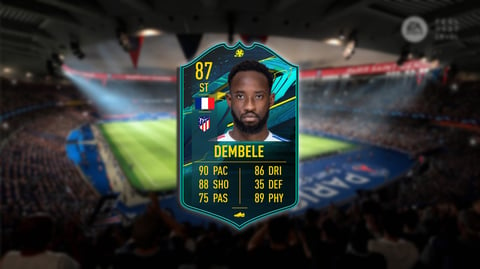 Looking for a FIFA 21 La Liga striker with excellent links to French players? If you are, then your search is over. The Player Moments Moussa Dembélé SBC is exactly that, and more. We have the cheapest solution.
Moussa Dembélé is just another great SBC to solve this week. Following in the footsteps of Bruno Guimarães and Pedro Gonçalves from the Future Stars event, the Atlético Madrid striker is good enough and cheap enough to be worth the hassle.
The FIFA 21 Moussa Dembélé Player Moments SBC Card
Position: ST
Nation: France
League: La Liga
Team: Atlético Madrid
OVR: 87
Weak Foot: 4 stars
Skill Moves: 4 stars
Price: approx. 213,000 coins
Expiry: February 17
93 sprint speed, 92 finishing, 95 heading accuracy and 91 strength - Player Moments Moussa Dembélé is an immovable object inside the box with the pace to match. There are also multiple ways of adding to his value with chemistry styles.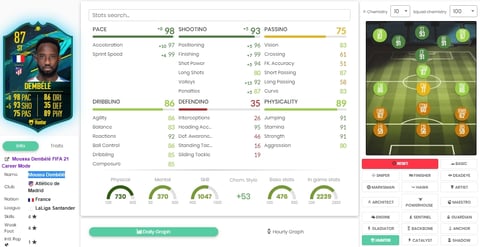 Choose Hunter and push his pace and shooting near maximum levels or go for Engine and better agility. For just over 200,000 coins, you can't go wrong with Moussa Dembélé.
The Cheapest Solution
The entirety of these 200,000 coins must be spent on one single squad with the following requirements:
Min. one La Liga player, min. 86 OVR, min. 65 chemistry
Team 1
Thanks to a low chemistry requirement, we combine La Liga with the Serie A, CSL and Premier League here. We are also able to insert a lot of goalkeepers, including Jan Oblak and Alisson who both contribute heavily to the OVR maintenance.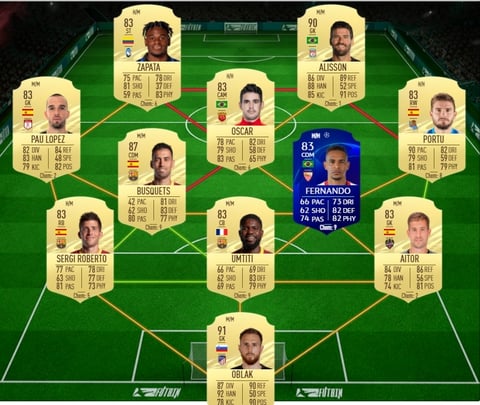 Create a MyEarlyGame account now! It lets you enter all our giveaways. You can also follow us on Instagram or join our Discord for a fun chat.