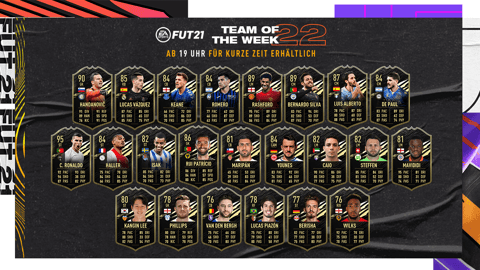 TOTW 22 in FIFA 21 FUT is out and we must confess - it's impressive! Whether you sport a Premier League, La Liga or Serie A squad, you're gonna be delighted by the content. Cristiano Ronaldo and Marcus Rashford are the highlights in a very strong TOTW 22.
TOTW usually becomes less and less valuable as the football season progresses. FIFA 21 TOTW 22 breaks all clichés in that regard by bringing us 95 OVR Cristiano Ronaldo and many other great cards.
FIFA 21 TOTW 22 Content
EA Sports have been on a roll over the past few Teams of the Week. Starting with TOTW 20, going through TOTW 21 and now with TOTW 22, we have three straight packs with good to great content. Someone pinch me!
That may have something to do with the fact that we're in a week with no active FUT event. Regardless of reasoning, we are very happy. There are pairs of gems from each of the three big leagues. There's attack and defense pouring in from Serie A, as Cristiano Ronaldo is accompanied by Cristian Romero and his lowkey meta CB card.
There's definitely a meta player coming from La Liga: Real Madrid RB Lucas Vázquez chimes in with a breezy 85 OVR. The other La Liga representative is Real Sociedad striker Alexander Isak who, although a notch down from the top FUT strikers, is playing way over what his 82 OVR suggests.
At last, we arrive to the EPL and it's a deadly TOTW 22 midfield duo. Marcus Rashford is among the most OP players in FUT and an In-Form for him is always a good occasion. That's not even it for the United winger. This In-Form card means a Headliners upgrade for him as well.
The blue side of Manchester refuses to lose this matchup by having their own great player in TOTW 22. Bernardo Silva might not be at Rashford level in FUT, but his new 89 OVR card isn't one to snooze at.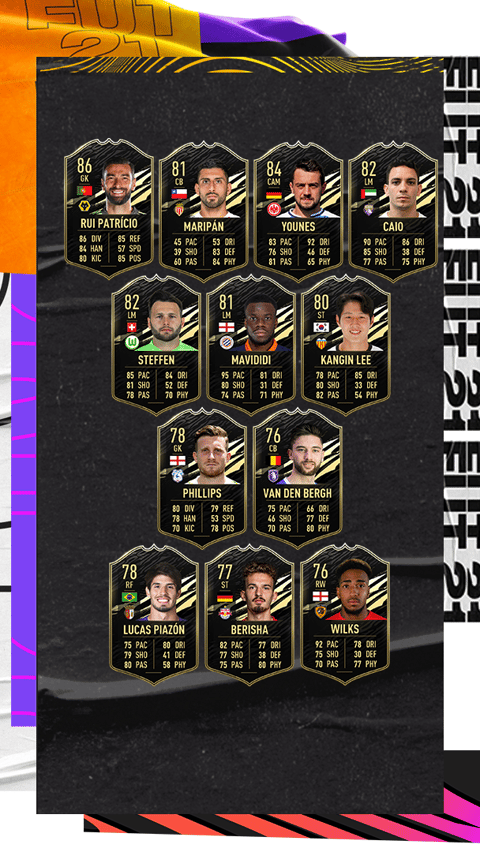 TOTW 22 Squad
GK: Samir Handanović - 90 OVR (Inter)
RB: Lucas Vázquez - 85 OVR (Real Madrid)
CB: Michael Keane - 84 OVR (Everton)
CB: Cristian Romero - 87 OVR (Atalanta)
LM: Marcus Rashford - 89 OVR (Manchester United)
CM: Bernardo Silva - 89 OVR (Manchester City)
CM: Luis Alberto - 87 OVR (Lazio)
CM: Rodrigo de Paul - 84 OVR (Udinese)
ST: Cristiano Ronaldo - 95 OVR (Juventus/Piemonte Calcio)
ST: Sébastien Haller - 84 OVR (Ajax)
ST: Alexander Isak - 82 OVR (Real Sociedad)
GK: Rui Patrício - 86 OVR (Wolverhampton Wanderers)
CB: Guillermo Maripán - 81 OVR (Monaco)
CAM: Amin Younes - 84 OVR (Eintracht Frankfurt)
LM: Caio - 82 OVR (Al Ain)
LM: Renato Steffen - 82 OVR (Wolfsburg)
LM: Stephy Mavididi - 81 OVR (Montpellier)
ST: Kangin Lee - 80 OVR (Valencia)
GK: Dillon Phillips - 78 OVR (Cardiff City)
CB: Jan van den Bergh - 76 OVR (Beershot)
RF: Lucas Piazón - 78 OVR (Braga)
ST: Mërgim Berisha - 77 OVR (RB Salzburg)
RW: Mallik Wilks - 76 OVR (Hull City)
TOTW 22 cards will be included in packs for the next seven days. With the lack of an event to divert attention, these should occupy our minds for that period.
Create a MyEarlyGame account now! It lets you customize our site and enter all our giveaways. You can also follow us on Instagram or join our Discord for a fun chat.