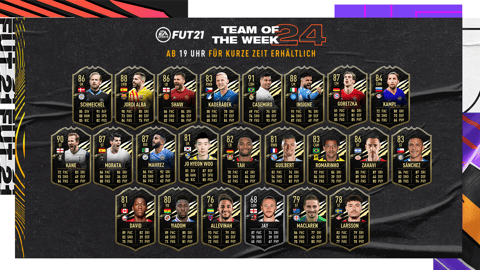 TOTW 24 is now active in FIFA 21 packs. It shines with a few quality cards, but perhaps even more important are the Headliners upgrades it leads to. Leon Goretzka and Riyad Mahrez' new In-Form cards make that possible.
Last week's TOTW 23 fell in the not great, not terrible category and if we're being honest, so does this one. There are still a pair of Headliner upgrades that await Goretzka and Mahrez, as well as two great options at left-back.
FIFA 21 TOTW 24: Is It Any Good?
Kind of. While the two best cards in terms of OVR - Harry Kane and Casemiro, are not necessarily great for FUT, other cards take their place as more meta-friendly. Examples of that are Álvaro Morata and Lorenzo Insigne.
Luke Shaw is a particularly interesting card and he's not even the best LB on TOTW 24. That title goes to Jordi Alba's 88 OVR LWB card. Variety out left. There are of course also the mentioned In-Forms for Riyad Mahrez and Leon Goretzka, which are good on their own, but do much more good for those sporting their Headliners versions. There's also the Ones To Watch upgrade for Jonathan David. A good week for dynamic card owners.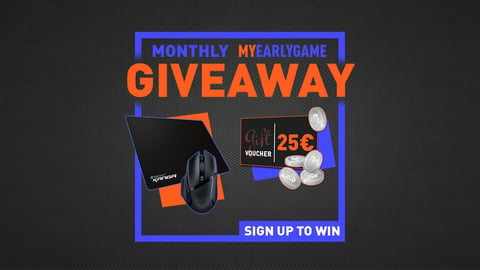 FIFA 21 TOTW 24 Lineup
GK: Kasper Schmeichel (Leicester City) – 86 OVR
LWB: Jordi Alba (Barcelona) – 88 OVR
LB: Luke Shaw (Manchester United) – 86 OVR
RWB: Pavel Kadeřábek (Hoffenheim) – 83 OVR
CDM: Casemiro (Real Madrid) – 91 OVR
LM: Lorenzo Insigne (Napoli) – 88 OVR
CM: Leon Goretzka (Bayern München) – 87 OVR
CDM: Kevin Kampl (RB Leipzig) – 84 OVR
ST: Harry Kane (Tottenham Hotspur) – 90 OVR
ST: Álvaro Morata (Juventus/Piemonte Calcio) – 87 OVR
RW: Riyad Mahrez (Manchester City) – 87 OVR
GK: Hyun Woo Cho (Ulsan Hyundai) – 81 OVR
CB: Jonathan Tah (Bayer Leverkusen) – 82 OVR
RWB: Frédéric Guilbert (Strasbourg) – 81 OVR
CAM: Romarinho (Al Ittihad) – 83 OVR
ST: Eran Zahavi (PSV Eindhoven) – 86 OVR
ST: Alexis Sánchez (Inter) – 83 OVR
ST: Jonathan David (Lille) – 81 OVR
RB: Andy Yiadom (Reading) – 80 OVR
LM: Jim Allevinah (Clermont) – 76 OVR
CAM: Matt Jay (Exeter City) – 68 OVR
ST: Jamie Maclaren (Melbourne City) – 79 OVR
ST: Jordan Larsson (Spartak Moscow) – 78 OVR
TOTW 24 cards will be in FUT packs for a week. There are a couple of events running right now - What If and Player Days, so our hands will be full for the next couple of days.
Create a MyEarlyGame account now! It lets you customize our site and enter all our giveaways. You can also follow us on Instagram or join our Discord for a fun chat.