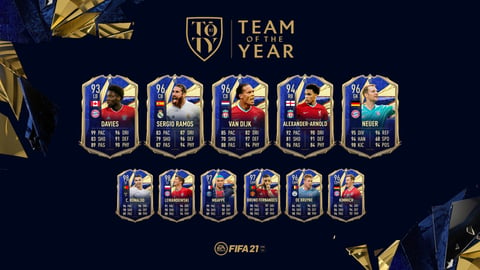 The FIFA 21 TOTY continues to entertain FUT players. Today marks two big events - the announcement of OVR ratings for the defense and goalkeeper, and the starting point of the 12th man voting.
EA Sports have been releasing portions of TOTY at different times in the past few days. We received the forwards and midfielders early on, now it's time for defenders to make their appearance. Furthermore, fans can now vote for the 12th TOTY man. The picks come down to Heung-Min Son, Thiago Alcântara and Lionel Messi.

Guardians at the back.

Introducing the ratings for your Team of the Year Back Line.#TOTY #FIFA21 pic.twitter.com/FhIwm56Q3n

— EA SPORTS FIFA (@EASPORTSFIFA) January 26, 2021
FIFA 21 TOTY Defense
We knew who is in the FIFA 21 TOTY, but we didn't know their ratings. That's no longer the case as the four defenders and goalkeeper Manuel Neuer are entering FUT packs. The final rating reveal confirms that there won't be any 99-rated players in this year's TOTY. Virgil van Dijk was one of the 99 OVR players in FIFA 20, but he is down to "only" 96 this time.
FIFA 21 TOTY Defense & Goalkeeper Ratings
LB: Alphonso Davies - 93 OVR (Bayern München)
CB: Sergio Ramos - 96 OVR (Real Madrid)
CB: Virgil van Dijk - 96 OVR (Liverpool)
RB: Trent Alexander-Arnold - 94 OVR (Liverpool)
GK: Manuel Neuer - 96 OVR (Bayern München)
XI down, one to go: Login to #FUT before January 28 to vote for Team of The Year's 12th Man.#TOTY #FIFA21 pic.twitter.com/ehri3noVaS

— EA SPORTS FIFA (@EASPORTSFIFA) January 26, 2021
TOTY 12th Player Vote
Additionally, the voting for the 12th TOTY member has begun. If you log into FIFA 21's FUT mode by January 28, you will receive a player choice pack with a loan card to one of the three players available for selection. The card you choose will receive your vote.
The players you can choose from are:
Heung-Min Son (Tottenham Hotspur)
Thiago Alcântara (Liverpool)
Lionel Messi (Barcelona)
Cristiano Ronaldo made the FIFA 20 TOTY as the 12th player and his nemesis Messi is favored to do the same now. However, Son is such a beast in FIFA 21 that a miracle may as well happen. We will find out in the coming days.
Join us on Facebook, Twitter and Discord to have a chat. Or check out our YouTube channel for some visuals, if reading's not your thing.
Want a personalized experience, with just the news and videos you care about? Then check out My EarlyGame and sign up for a free account. By joining MyEarlyGame, you also enter our monthly raffles for a chance to win some nice prizes. Have a look at all the details below and enter now:

Original article by EarlyGame's Philipp Briel.