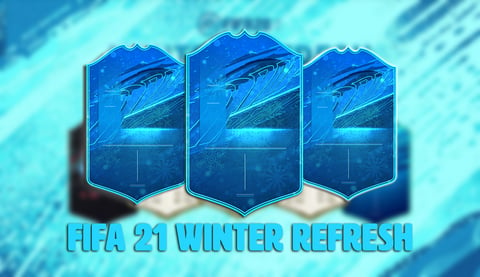 The FUT Winter Refresh (also known as Winter Upgrades) is about to start. After the Future Stars event ends on February 19, the next promo event should be waiting for us in the evening. But what can you expect?
Will the big FUT Winter Refresh start this evening? The release of the winter upgrades could take place on February 19, but the start date has still not been officially confirmed.
FUT 21 Winter Refresh Content: Winter Upgrades
A whole lot of new content awaits you in the Winter Refresh, including, for example, Winter Upgrades for players who have played particularly well in the first half of the season. The values of the best performers can increase by 1-3 points. These count towards FUT Headliners and RTTF and may have bigger influence in the wider picture.
In addition, there is likely to be a separate Winter Refresh team containing special cards of players who changed clubs in the winter transfer window.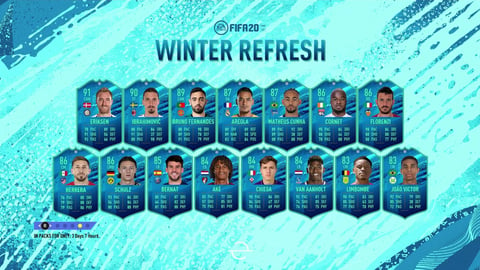 The Hottest Winter Transfers for the FUT Winter Refresh Squad
The winter transfer window was short on blockbuster deals, so picking the right team for Winter Refresh is a challenge. Here is our provisional eleven:
Martin Ødegaard (Arsenal)
Sébastien Haller (Ajax Amsterdam)
Moussa Dembélé (Atlético Madrid)
Dominik Szoboszlai (RB Leipzig)
Ozan Kabak (Liverpool)
Arkadiusz Milik (Olympique Marseille)
Amad Diallo (Manchester United)
Papu Gómez (Sevilla)
Luka Jović (Eintracht Frankfurt)
Saïd Benrahma (West Ham United)
Morgan Sanson (Aston Villa)
All 101 ICON Moments dynamic images from today's Title Update from FIFA
Icon Moments Cards in FUT Winter Refresh
Icon Moments cards are better than the Prime Icons and represent some of the strongest cards in FUT. In the past, Prime Icon Moments cards usually came about during the Winter Refresh and we assume that this will also be the case this year as well.
Winter Upgrades Spreadsheet:

There are 8 spreadsheets showing every winter upgrade, SM/WF upgrade, and nation changes in FIFA. There are so many ways to make coins from this!

Likes + Retweets appreciated as a lot of time has been put into this.https://t.co/It0prMscbQ pic.twitter.com/HA3ybsARFY

— Tradiac (@TradiacFUT) February 15, 2021
Winter Refresh Leak: Are These Winter Upgrades Coming?
Shortly before the start of the Winter Refresh, the most important Winter Upgrades were apparently leaked, as FIFA streamer Inhutradiac1 reported on Twitter.
In the meantime, the description of the spreadsheet has been changed - apparently it is only a Winter Refresh prediction and not a leak.
Content creator MattHDGamer goes into detail about the upgrades in a 30-minute video. Even if they are not official values, many of the upgrades are considered very likely.
We will find out whether the FUT 21 Winter Refresh will actually start on February 19 or EA Sports will take another week in a few hours.
Want a personalized experience, with just the news and videos you care about? Then check out My EarlyGame and sign up for a free account.
Join us on Facebook, Twitter, and Discord to have a chat. Or check out our YouTube channel for some visuals if reading's not your thing.

Original article by EarlyGame's Philipp Briel.