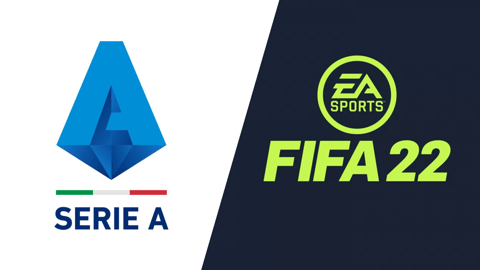 Atalanta Bergamo and Lazio are not featured in FIFA 22. After the license loss for the two Italian greats, EA has to improvise. In FIFA 23, Napoli will leave the franchise as the fifth Italian club - what a disaster! What's next? What are the clubs going to look like? Which kits will they wear? We answer the most important questions about the licenses in FIFA 22!

Ouch! After Juventus Turin signed an exclusive contract with Konami two years ago and suddenly became Piemonte Calcio in FIFA 20, AS Roma (later Roma FC) also joined the Japanese publisher.
Now we're losing the next Italian clubs. In addition to Juve and Roma, Atalanta Bergamo and Lazio Rome will soon appear as generic fantasy clubs in FIFA 22. Four clubs that regularly play the international tournaments - problematic. Thanks to some leaks, we already know what their logos and kits will look like and - maybe the most important part - we already know their names too. We give you an overview of what you have to be prepared for in the new FIFA!
FIFA 22: What League Will Atalanta Bergamo and Lazio be in?
Both clubs will of course continue to appear in the Serie A. Electronic Arts has the rights for the Italian league, but since the clubs have concluded exclusive deals with Konami, they only appear with generic logos and jerseys.
In fact, there are already first indications of the names of the clubs. Atalanta becomes Bergamo Calcio because of its hometown, Lazio Rome receives the name of its region - Latium. So the derby of Rome will take place at the same level again, now that both clubs have become fake clubs.
What is Atalanta Bergamo Called in FIFA 22?
The surprise of the past few seasons reappears as Bergamo Calcio. As with Juventus Turin and Piemonte Calcio, the alternatives created by EA caused some laughter in the community. We were able to take a look at the logos. Atalanta is not recognizable at all. The black is still left, but that's all about it. The publisher didn't put a lot of effort into the new design of the italian club. But watch yourself!
Atlanta in #FIFA22 pic.twitter.com/eiiY9Tajzd

— FIFA 22 Daily (@FIFA22_Daily) August 5, 2021
What is Lazio Called in FIFA 22?
In the upcoming FIFA, we also have to say goodbye to the historic club from the Italian capital... somehow. Lazio will now be called Latium in FIFA 22. As with Atalanta, we are desperately hoping for something stylish for Lazio. So EA was able to find the right colors in its paint box... but you can argue about the design. In contrast to Atalanta, pictures of the jerseys from Lazio were already leaked. But they look more like a Juventus jersey than a Lazio jersey... But again: Judge for yourself!
Lazio pic.twitter.com/lTssj2EDYl

— Fifa 22 beta leaks (@CountingFIFA) August 5, 2021
Bergamo Calcio and Latium: Can you still Play Duvan Zapata and Co.?
Of course! You can still start the match with the players and their right names. Even when EA does not own the licenses for the club and its stadium, the players are not affected by that. However, the 3D scan won't be done, as it was the case with Juventus and Roma. So please, don't expect any graphic masterpieces!
Next shock: FIFA 23 without Napoli?
But: things get even worse for EA. Konami already announced, they already have the next big coup for the 2022/23 season. Napoli will be the fifth Italian club to play exclusively in their franchise... Can FIFA compensate such losses? There are already speculations about the possible name for Luciano Spalletti's club: Campania Calcio or Napoli FC. Definitely not our first choice...
Read more:
You want the best FIFA content? Whether it's FUT, Career Mode, News, Tips&Tricks, FIFA 22, SBCs, or eSports - with MyEarlyGame you're always one step ahead.