If you have the FIFA 23 Ultimate Edition, you also have 4600 FIFA Points available. In general, there are probably quite a few of you who buy FIFA Points, especially at the beginning. We'll show you how to invest them.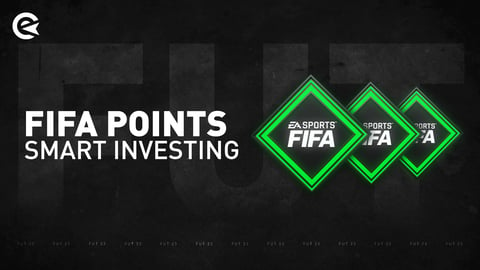 Of course, it is not the coolest way to buy FIFA Points and use them to make coins quickly, but we can fully understand if you are simply too lazy to trade. You shouldn't blindly put the Points into packs, though, there are other ways to use them.
Because especially at Christmas time many in the FIFA community are really spendy. No matter if it's the FIFA 23 Ultimate Edition or the simple purchase of FIFA Points - in the end you shouldn't just buy 7.5k packs. So let's take a look at how you can invest your FIFA Points well to end up with a pile of coins in your FUT account.
FIFA 23: How To Invest FIFA Points in Ultimate Team

If you look at different YouTubers, you can see how the Points can be spent. For packs. However, you also see how quickly 10,000 points can be gone without getting a good player. So, our advice: If there are good packs in the shop, you can buy one, but in general, you should spend points differently.
If you are searching for a christmas present, you should take a look at this:
FIFA 23: Invest points in FUT Packs
It's the Rare Players and Jumbo Rare Players Packs (50k and 100k) that often bring you some spectacular cards. However, it always depends on how many points you have available. If it's "only" 1,500 Points, they would be quickly gone after buying a 100k pack. Then you should spend them differently. But if Santa has some more FIFA 23 points for you, feel free to spend them like these crazy YouTubers.
FIFA 23: FUT Draft with FIFA Points
Exactly, FUT Draft is the way to get coins on your account. But be careful! You should definitely have played some FIFA 23 matches beforehand. Otherwise, you will be very angry because you will lose a lot of time in Draft. That would be a shame for the Points. So then, when you feel ready, FUT Draft is the perfect way to go. Why? You have many advantages. On the one hand, playing drafts will make you better in FIFA 22. You get to know the gameplay and the meta extremely well there.
On the other hand, one round only costs 300 Points, but with four wins, it brings really nice packs. You get better packs with one round than with buying packs. Besides that, it's also really fun building the Drafts. It's just all about the best way to make coins, get better, and have fun in FIFA 22. That's why you can of course buy packs with Points, but you should focus on FUT Draft.
FIFA 23 Ultimate Team: Is It Worth Buying Points?
The ultimate question in FUT: Is it worth spending your money for FIFA Points in Ultimate Team? There are some pros and cons. After all, if you need coins quickly, this is obviously the easiest method (besides the possibility of buying coins on the Internet).
And even if you're a FUT Draft fan or love the thrill at Packopenings, FIFA Points are simply priceless. Otherwise, though, we have to be honest and say that FIFA Points can be a good damn rip-off. Often, you don't get anything out of both the packs you buy in the store and the draft packs you earn in FUT.
Additionally, you have to pay for it - and we all don't like pay-to-win gamers. When I think of those... nice people who only beat me because they have R9 and Mbappé up front. Delightful. Anyway, buying points can be a cool way to go and is definitely a good gift at Christmas. But in the same way, you can also be annoyed afterwards for having burned your money.

This article contains affiliate links which are marked with [shopping symbol]. These links can provide a small commission for us under certain conditions. This never affects the products price for you.