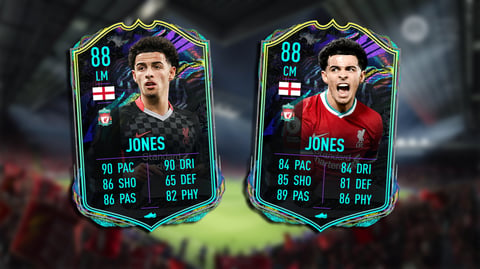 In FUT Future Stars Team 2, you can expect a new player selection SBC in the form of Curtis Jones from Liverpool FC. Two variants of the Englishman are available, which one is really worth it and how you can get the card, we reveal in our SBC solution.
Make room for the young guns. In FUT Future Stars Team 2 there are again some really strong players. One of them is available via SBC: FUT Future Stars Curtis Jones from Liverpool FC is available as an LM or CM player. We have the cheapest SBC solution.

Future Stars Curtis Jones
Position: LM/CM
Nation: England
League: Premier League
OVR: 88
Weak Foot: 4 Stars
Special moves: 4 Stars
Price: around 400,000 Coins
Expiry: February 26
A CM maestro or a intricate LM @curtisjr_10 #FutureStars Player Pick Squad Building Challenge is available now in #FUT.#FIFA21 pic.twitter.com/3sTSgUQSuU

— EA SPORTS FIFA (@EASPORTSFIFA) February 12, 2021
Is Future Stars Curtis Jones Worth it?
The left midfield version is good, but the CM version of Jones is really strong. With the Basic Chemistry Style, the young Englishman comes to 92 OVR in central midfield and thus represents an affordable version of Bruno Fernandes or Renato Sanches.
For just under 400,000 coins, this is truly no bargain, but due to the strong links in the Premier League, well worth the money.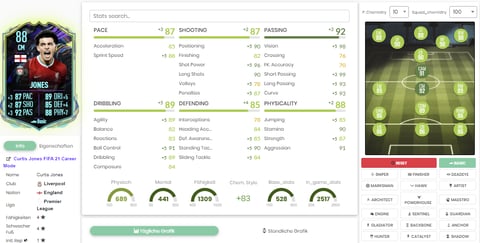 FUT Future Stars Curtis Jones SBC Solution
For the card of Curtis Jones you need to give up a total of three teams, then you have the choice between both versions of the midfielder:
Team with a Liverpool FC player (83 OVR, min. 80 chemistry).
Team with a player from England (85 OVR, min. 70 chemistry)
Team with a player from the Premier League (86 OVR, min. 65 chemistry)
Team 1: Liverpool
Team 1 costs just under 30,000 coins and is therefore still affordable. Here you combine Bundesliga, Liga NOS, and Premier League. The Swiss player Xherdan Shaqiri is the required Liverpool player.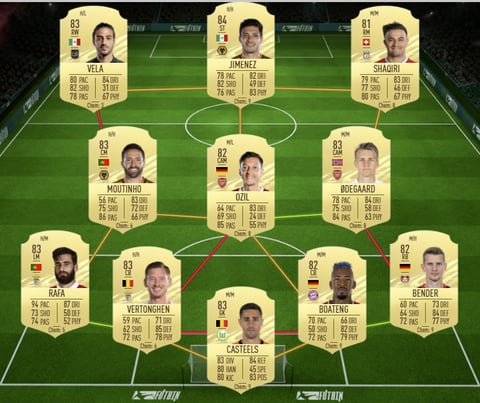 Team 2: England
About 150,000 coins are allotted to this team, which is mainly native to the French Ligue 1. Include the cheapest headliners card from Karl Toko-Ekambi, while Atletico Madrid's Kieran Trippier fulfills the nation's requirement.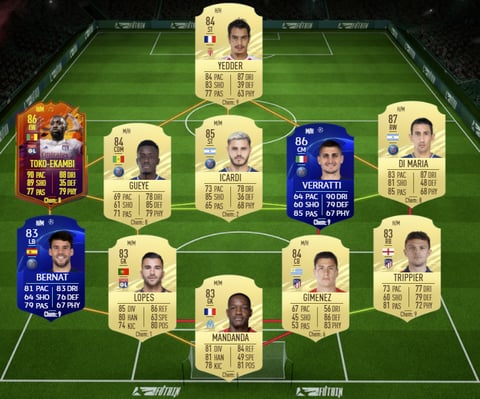 Team 3: Premier League
This is where things get really expensive. Around 215,000 coins are allotted to this team, most of which is based in the Premier League. Only Thibaut Courtois, Jan Vertonghen, and Dusan Tadic play in other leagues.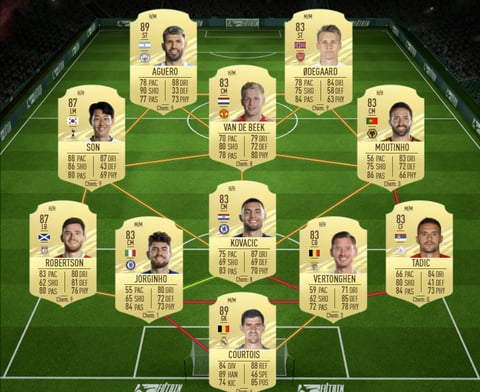 If you liked our article and you always want to have the latest FIFA tips, join MyEarlyGame. Here you can customize our site according to your preferences and participate in exclusive giveaways! Don't be a Bronze player, be an EarlyGamer!
Original article by EarlyGame's Philipp Briel.