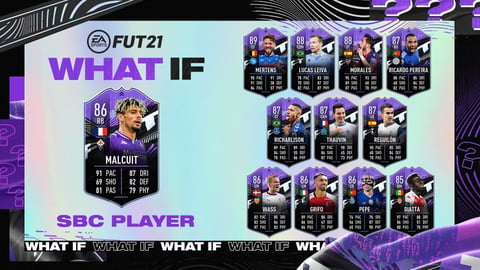 Serie A gets a new right-back. For the release of FUT What If Team 2, there is a new player SBC, Kévin Malcuit, who is tied for the top spot with Bruno Peres and Juan Cuadrado.
When FUT What If Team 2 is, compared to the first team, it's a bit of a disappointment. However, for Serie A hybrid teams, FUT What If Kévin Malcuit SBC is still an exciting card. We'll show you whether the deal is worth it and how to secure the player.
FIFA 21 Winter Refresh Prediction: Top 10 Upgrades

View gallery
What If Kévin Malcuit
Position: RB
Nation: France
Liga: Serie A
OVR: 86
Weak Foot: 3 Stars
Special moves: 4 Stars
Price: about 255.000 coins
Expiry: March 12
Just finding his form

A new #FUT "What If" Squad Building Challenge is live now in #FIFA21 pic.twitter.com/5xduNXAnZ8

— EA SPORTS FIFA (@EASPORTSFIFA) March 7, 2021
Is What If Kévin Malcuit worth it?
With 91 pace and good dribbling, stats speak for Malcuit, but the Frenchman has strong competition in Serie A. Defensive and physical values could be better, though. With the best chemistry style, Anchor, Malcuit comes to 89 OVR - even a FUT Freeze Christian Ansaldi about three months ago reaches higher levels.
Moreover, an upgrade for FUT What If Kévin Malcuit is rather unlikely. For that, his team, ACF Fiorentina, would have to play a game without conceding a goal in the next four matches. This is indeed possible next Saturday in the match against Benevento Calcio, but after that, it will be very difficult. All in all, the card is not really worth it.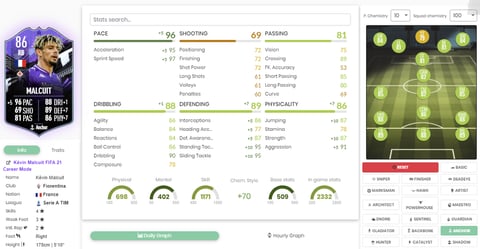 FUT What If Kévin Malcuit SBC Solution
In total, you have to trade two SBC teams for FUT What If Kévin Malcuit:
Team with a player from France (84 OVR, min. 70 chemistry).
Team with a player from Serie A (85 OVR, min. 55 chemistry)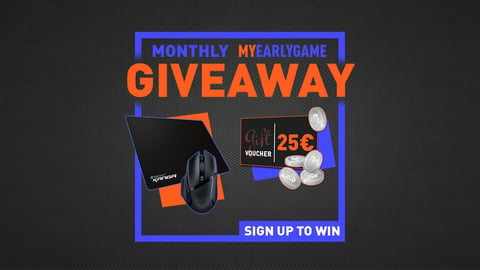 Team 1: France
The first team will cost you around 84,000 coins. Here you combine Serie A with Bundesliga and MLS. For the Frenchman you need, you can use Blaise Matuidi from Inter Miami.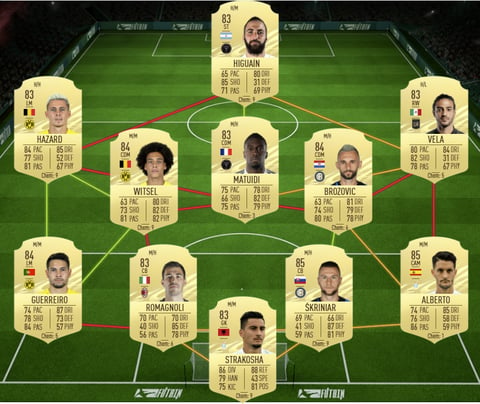 Team 2: Series A
This team already costs a whopping 172,000 coins. Here, we focus mainly on Serie A and combine the whole thing with two players from the Premier League (Martin Dúbravka and Raheem Sterling), as well as two Argentines (Ever Banega and Gonzalo Higuain).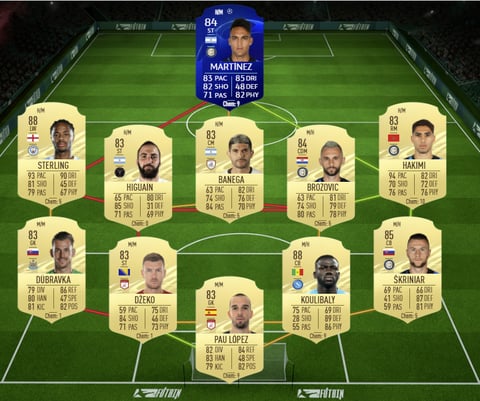 You can find more news and updates about FIFA, like all info about FIFA 22, on EarlyGame. Do you only want to see content about your favorite games? Then create a free MyEarlyGame account!
Original article by EarlyGame's Philipp Briel.