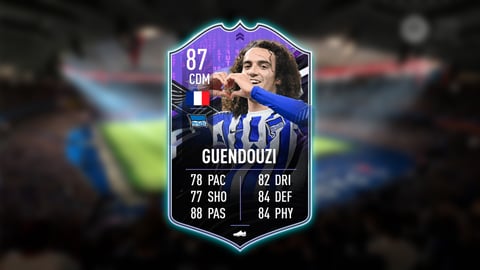 Among the many What If cards currently floating around in FIFA Ultimate Team, there's one card available for free. This is Bundesliga CDM Matteo Guendouzi from Hertha Berlin - this week's FUT Objectives player.
There are basically two affordable Bundesliga CDM options in FIFA 21 FUT: RTTF Denis Zakaria and TOTW Thomas Delaney. TOTY Joshua Kimmich costs two million coins. As you can see, strong Bundesliga CDMs don't grow on trees. Frenchman Matteo Guendouzi is the latest option, coming as part of the FUT What If event. His Objectives card is free of charge and has the potential to grow.
FIFA 21 Winter Refresh Prediction: Top 10 Upgrades

View gallery
Compared to Kimmich, Delaney and Zakaria, What If Mattéo Guendouzi from Hertha Berlin has the clear advantage of costing absolutely nothing except time. There are five objectives that need to be completed until March 12 and the Frenchman's card will be yours.
In terms of stats, Guendouzi's strengths lie in his passing (88), defense, and physicality - both 84. The Shadow chemistry style takes care of his lack of pace, which isn't that big of a deal at CDM anyway.
There is technically the chance of a +2 OVR upgrade, which is far from certain. Hertha need to score four goals in their next four games for that to happen. With Borussia Dortmund, Bayer Leverkusen, Union Berlin and Borussia Mönchengladbach being the opponents, that may prove a tall ask.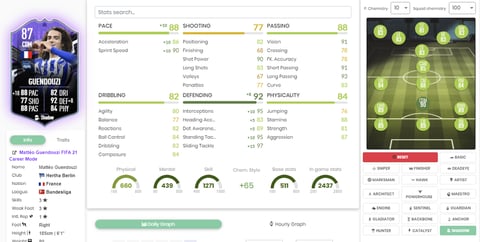 How to Get What If Matteo Guendouzi
You have to complete five objectives in the friendly match mode What If Classic to obtain Matteo Guendouzi:

Double Trouble: Score two goals in two separate matches using Bundesliga players.
Matteo in Midfield: Score in three separate matches using midfielders.
Aimed Assistance: Assist five goals using French players.
Fantastic Five: Win five matches.
Berlin Boost: Score in 10 separate matches using Bundesliga players.
The objectives are all very lenient and can definitely be completed in a few days. Get to playing and secure your FUT reward!
Create a MyEarlyGame account now! It lets you customize our site and enter all our giveaways. You can also follow us on Instagram or join our Discord for a fun chat.
Original article by EarlyGame's Philipp Briel.