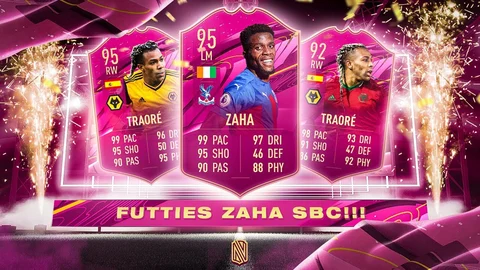 Wilfried Zaha is the newest FUTTIES player in FIFA 21. In the FUTTIES vote, he was able to win against Moussa Sissoko – to everyone's surprise. EA takes it to another level with this SBC again, because you have to submit 12 teams for the Squad Building Challenge.

Wilfried Zaha has always been a machine in FIFA. Especially because of his 5-star skills, the Ivorian is popular. So popular, that he won the voting against Sissoko, which is really surprising for us. The FUTBIN community is also confused by the result of the voting, and Zaha has received 3,843 dislikes so far. Ouch. Apart from that, it's quite surprising that Zaha still plays for Crystal Palace and hasn't moved to one of the Big 5 clubs yet (I don't count Arsenal as a top club anymore).

Wilfried Zaha FUTTIES SBC - FIFA 21
Wilfried Zaha is available as an SBC until August 4. We do not have the cheapest solution this time, just because we're so upset about it altogether.

Player: Wilfried Zaha
Nation: Côte d'Ivoire
Position: LM

League: Premier League

Team: Crystal Palace

OVR: 95
Weak Foot: 3 Stars
Skills: 5 Stars
Price: around 307,000 Coins
Expiry Date: 4 August 2021
Is the FUTTIES Wilfried Zaha SBC Worth It?
Zaha is an awesome player, but this SBC is not worth it in any universe! 300,000 coins are quite a statement at this point in the game. Add to that the fact that he is a LM and not a ST. Unfortunately, he also only has 3-star weak-foot. And the biggest cheekiness is yet to come: you have to complete 12 challenges! What kind of nonsense is that? Why can't you just hand in two highly rated squads and be done with it? EA doing EA things...
Wilfried Zaha Is the Worst FUTTIES SBC in FIFA 21!
FUTTIES cards are there to be celebrated. The community should have fun when playing so that the wait until FIFA 22 won't be so hard to bear. And then EA comes around the corner and releases something like this... We really don't understand it. If it were up to FUTBIN users, then Sissoko would have won. It's clear that hardly anyone will complete the SBC. The almost 90% dislikes speak for themselves. But what does EA actually want to achieve with this? For Ruud Gullit, you have to give 25 teams, for Ronaldinho 22 and now 12 for Zaha. Boo! We just want "normal" SBCs!

Read More:

Are you looking for the best FIFA content? Whether it's FUT, career mode, news, tips, FIFA 22, SBCs, or esports - only with MyEarlyGame you'll always be on the ball.

Original article by EarlyGame's Jonas Sohns.