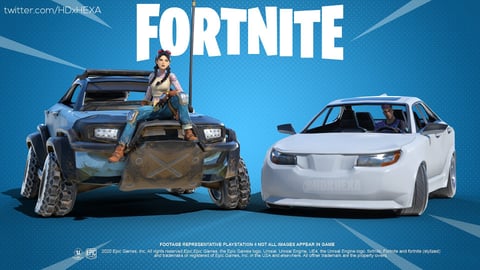 Fortnite will soon receive the long-awaited cars. In this article, you will find out when they will arrive, which car types and which LTM will be available.
The leaks in Fortnite are always fascinating. Especially in Season 3, where so much is happening, leaks tell us what we can expect long before they are released. Shortly after the release of Season 3, we learned that mobile cars would soon come into play. But now we know more about the vehicles when they will come, and what cool, new LTM there will be with them.
Release and Details About the Cars
According to the leaker, the cars will be added to the game on July 21st. So we can finally get new vehicles with which we can move around the map. They will contain a fuel symbol, with which you can fill up the cars. Between 0 and 10 Cars will spawn per Battle Royale round, so you need to be quick! The water level is gradually decreasing, and the map will soon look different, as other leaks have already shown. July 21st is actually preparing for a much larger event.
Notable Fortnite leaker FireMonkey posted a few tweets about the type of cars. There will be a variety of Cars, each with their own strengths and weaknesses. For example, a large truck will have a higher boost and will endure more damage than a medium-sized car. But the medium Car can be driven much faster.
Car Infographics | Release Date: 21st of July

Stats from @HYPEX
Car Types + Gas Pump Hose info from Me pic.twitter.com/7aZjZL00j2

— iFireMonkey (@iFireMonkey) July 6, 2020
According to FireMonkey, there will be the following car types:
Basic Car
Basic Truck
Big Rig
Police Car
Taxi Cab
Sports Car
Chrome "Race" LTM
In addition to the new vehicles, there were game files with the description Chrome "Race" LTM.
This is supposed to be a new car race LTM, which should also come into play soon. The aim of the game is to be the first to complete the race track, while destroying the opponents' cars to gain an advantage.
The description "Do whatever you can to get to the finish line" definitely makes you curious as to what else we could expect. Regardless, we are excited to see what will happen to the cars in Chapter 2, Season

For everything else Fortnite, keep it here with EarlyGame.