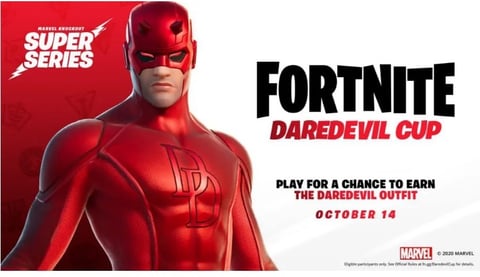 Daredevil is coming to Fortnite and binging a new skin and tournament series with it! Epic Games has announced the Marvel Knockout Super Series and players have a chance to win an exclusive Daredevil skin. We have all the important details for you here!
Fortnite competitive is popping off right now! We have the FNCS 4 which is in go mode and Week 1 has come and gone. Now we are suddenly gifted the Fortnite Daredevil Cup in the Marvel LTM. The Marvel Knockout Super Series will be a tournament series played exclusively in the Marvel LTM and not the traditional battle royale mode.

The Format for the Daredevil Cup will be trios and when you mix in all the Marvel superpowers the series should be exciting to watch and play in. The Daredevil Cup starts on October 14, a pretty short notice from the announcement, so do not delay putting together your squad. If you place high enough in the tournament you can win a free Daredevil skin.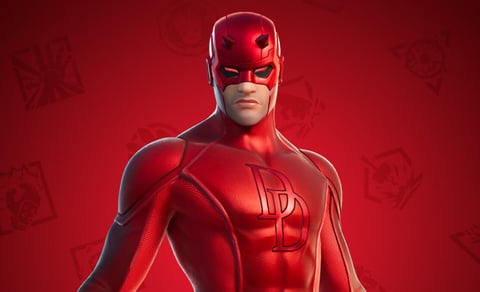 Each region has a different placement to win the skin and is based on the active number of players in each region. You will need two-factor authentication activated on your account to play in this tournament. The Daredevil Cup will appear in your playlist when it goes live.
To win the free Daredevil skin you must place:
Europe: 1st – 800th
NA-East: 1st – 500th
NA-West: 1st – 200th
Brazil: 1st – 200th
Asia: 1st – 100th
Oceana: 1st – 100th
Middle East: 1st – 100th
Not exactly a free skin but if you play Fortnite even at an average skill level there is a high chance you can place high enough and win one. The Marvel Knockout game mode is special because you do not use weapons but use the hero abilities instead. The Daredevil Cup is the first cup in the Marvel Knockout Super Series so chances are you can also win the Daredevil skin in the other upcoming cups. If you don't play competitive Fortnite, then you can simply buy the skin from the store instead.
More news about Fortnite can be found in our Fortnite section. Also, you can read more about gaming and esports on EarlyGame.