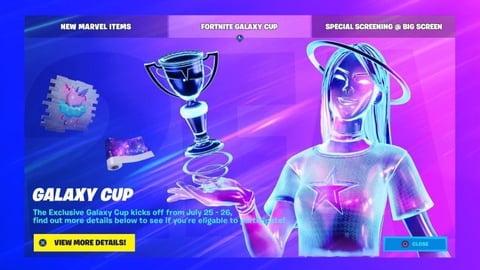 The Fortnite Samsung Galaxy Cup was leaked over the weekend. Now registrations for the tournament are officially open.
The Fortnite Samsung Galaxy Cup was accidentally leaked by Samsung, along with a new skin – the Galaxy Girl. You're probably thinking it was data miners but it wasn't. The leak came from Samsung's Health app which featured a promo for the Fortnite Galaxy Cup. Was it truly accidental though or just a PR move meant to promote the event even further? At this point, it doesn't really matter since the registrations for the tournament are already open.
New Fortnite Skin: Galaxy Girl / Galaxy Scout
Like it or not, skins have always been a huge part of Fortnite and there's no sign of slowing down. Epic Games recently added tributes to Aquaman and his arch-nemesis Black Manta as part of the Battle Pass. According to the recent leak, fans can expect the Galaxy Girl / Galaxy Scout to be released along with the event. We're not really sure about the name yet, but that should become clear once Samsung starts releasing teasers for the new skin.
Galaxy Scout Skin | First Look

Due to a mishap on the Samsung Health application, twitter use @fu noticed that the Fortnite Galaxy Scout promotion was already on the app earlier than expected.

Due to this, we now have a nice image that shows us what this skin will look like pic.twitter.com/a1WBkghGNR

— iFireMonkey (@iFireMonkey) July 17, 2020
It's expected that the new skin will only be available to owners of the Samsung Galaxy. Collectors might want to get it as it's not the first galaxy-themed skinned in the game.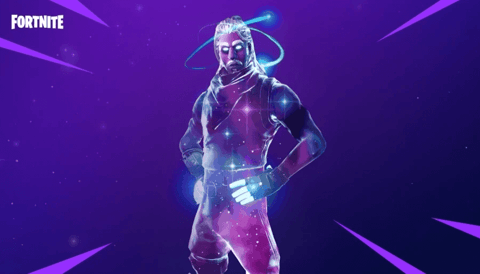 The Galaxy Cup
The Samsung event itself will take place a bit later this week. According to the leak, it was scheduled for July 25 and July 26. This information was later confirmed by an in-game promo banner for the event. It's going to be an invitation-only type of tournament which already disappointed numerous fans, but it is what it is. Much like the skin above, only owners of the Samsung Galaxy will be eligible to enter the event, so that's a bit of a let down too. On the other hand, it adds exclusivity.
Alrighty so, without much to talk about as of right now here is what we know is upcoming in Fortnite.

16th - Black Manta item shop (leaked by an insider)
18th - Water level lowers again
20th - registration for the Galaxy Girl (Galaxy Scout) cup opens
21st - Cars releasing

— iFireMonkey (@iFireMonkey) July 14, 2020
It's expected that the event will be limited to only mobile devices, but we could be wrong. Stay tuned for more information once it becomes available.
For more Fortnite news make sure to check out EarlyGame as well as the EarlyGame Youtube channel.