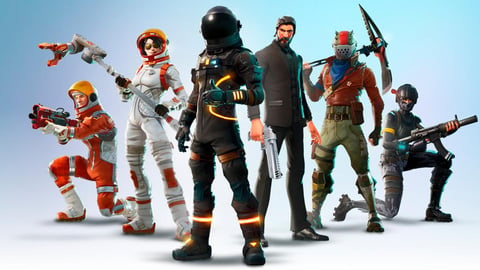 We all like to see new Fortnite skins, don't we? But we never question how exactly leakers get their information and from who. However, in a recent Tweet, an Epic Games employee could be in big trouble.
Over the weekend, a mass amount of skins have leaked to the Fortnite community, calling into question how these leakers obtain their information. In a recent Tweet, a staff member at Epic Games could be behind the leaks, and they could be in trouble.
RIP to an Epic Games employee soon Man Is about to be sued even more than the chapter 2 map leaker

— MSF Happy Power (@HappyPower) July 4, 2020
This Tweet was sent during the leaks that took place over the weekend, which showcased a ridiculous amount of skins that became known to the community. Leaks are naturally apparent, especially within the gaming community. However, a follow-up-tweet suggests it could be something much bigger.
Sorry just got home, a person (still unsure exactly who) working for epic games has been giving leakers tons of leaks, and even giving out AES keys to certain skins that are encrypted. That's how most leakers have dates to, updates, youtuber skins, itemshops, and things like that

— MSF Happy Power (@HappyPower) July 4, 2020
What's leaked?
Over the weekend a vast amount of skins, items and more were showcased to the community, calling into question how leakers obtained this information:
Relaxed Fit Set:

Skin - Dad Bod Jonesy
Backbling - Beef Pack [Default + Prechewed Pack Variants]
Pickaxe - Snax pic.twitter.com/1pmuh1HP6P

— iFireMonkey (@iFireMonkey) July 4, 2020
Team Heartbreak Set:

Skin - Darkheart
Backbling - Heartless Wings
Pickaxe - Bewitching Blades pic.twitter.com/CXBxiZmCfl

— iFireMonkey (@iFireMonkey) July 4, 2020
These were just some of the leaks that appeared over the weekend. Several more Tweets were posted with new skins, new details of upcoming changes, and much more. This originated back to prominent leaker HYPEX, who has commented further on the matter. HYPEX states that an Epic Games employee was not involved with leaks he had obtained.
Just to make this clear, i don't have an epic employee leaking me shit, i was emailed 5 release dates & an already known leak, i already told epic's security team this, why do people keep CONFIRMING that i have an employee source? i never confirmed that .. do not believe anything

— HYPEX (@HYPEX) July 5, 2020
Regardless, the Fortnite community seems to be launching their own investigations into the matter. There has been no official response from Epic Games at the moment, so we need to wait to find out more and will keep you updated as things develop.

For everything else Fortnite, keep it here with EarlyGame.