Creative 2.0 is a revolution for Fortnite and you certainly don't want to miss out on the best maps in Creative 2.0 with breathtaking experiences.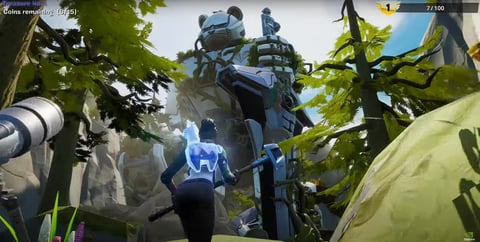 Fortnite has become a global phenomenon due to its ever-evolving gameplay, exciting collaborations, and creativity. With the introduction of the Unreal Engine 5, players are now able to utilize a high-powered, real-time 3D creation tool to branch out and create unique and inventive content.
Creative 2.0 maps offer players the ability to design their own experiences and express their creativity in new ways. In this article, we will explore some of the most inventive Creative 2.0 maps and what makes them unique.
Best Creative 2.0 Maps in Fortnite
The Space Inside
Code: 9836-7381-5978
Creator: Epic Labs
The Space Inside is a challenging and immersive escape story that can perplex even the smartest of puzzle-solvers. The map forces players to traverse a plethora of galactic breakout rooms to find the real reason they've been placed there. This Creative 2.0 map showcases the sheer potential of Unreal Engine 5 and offers players a unique feel.
Deserted Domination
Code: 8035-1519-2959
Creator: Epic Labs
Deserted Domination is a Creative 2.0 map that combines aspects of the Call Of Duty franchise with Fortnite's battle royale style. Players are tasked with controlling three points spread across five rounds of total chaos. The gameplay forces players to pay attention to the demanding objective at hand, adding a unique feel to Fortnite.
Get some of the best gear for gaming right here on Amazon!
Forest Guardian
Code: 0348-4483-3263
Creator: Epic Labs
The Forest Guardian is a single-player open-world adventure map that immerses players in a mystical setting. The objective is to battle enchanting beasts and complete the adventure in less than ten minutes. This Creative 2.0 map showcases the endless possibilities of Unreal Engine 5 and offers players a unique feel.
Fort Shooter
Code: 0389-9589-7317
Creator: spankysully
Fort Shooter is a scale-up of the First-Person Shooter genre, placed within a retro landscape that tugs at players' nostalgia. This Creative 2.0 map offers a memorable free-for-all extravaganza for groups of friends or a challenging solo adventure. Fort Shooter showcases a vintage twist on the modern franchise and gives players something new to experience.
Reclamation
Code: 1135-0371-8937
Creator: TeamAlliance
Reclamation is a Creative 2.0 map that provides a distinct multiplayer shootout experience. Players must protect several amber excavation sites from hostile enemy players while homing in on hindering their opposition's accessibility to the mining points. This immersive gameplay experience showcases Unreal Engine 5's unmitigated capacity.
In conclusion, Creative 2.0 maps offer players the ability to express their creativity and design their own experiences in Fortnite. These inventive maps showcase the sheer potential of Unreal Engine 5 and offer players a unique feel that sets them apart from the traditional battle royale gameplay.
This article contains affiliate links which are marked with [shopping symbol]. These links can provide a small commission for us under certain conditions. This never affects the products price for you.