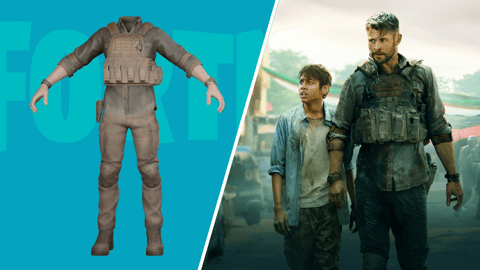 A new Fortnite skin has been leaked, and it's none other than Tyler Rake from the action movie Extraction, starring Chris Hemsworth. Let's dive into the details about this new collaboration coming to Fortnite.
Fortnite Season 7 is slowly coming to an end, and players are eagerly awaiting Season 8 which is rumored to have some pretty exciting leaks.

Recently, we have gotten a lot of sweet content between Ariana Grande's spectacular Rift Tour and even some Free Guy quests to promote the movie. There have been a bunch of collaborations with movie franchises, games, celebrities, and internet personalities in the past. And it looks like the next one is already waiting.


Chris Hemsworth/Tyler Rake Fortnite Skin
Fortnite leaker iFireMonkey, recently found a skin model in the game files that is code named "Dusty". Even though the model's head was missing, Fortnite fans quickly realized that this is Tyler Rake from the movie Extraction.

The "Dusty" skin model has the same tattoo as Tyler Rake, who is played by Chris Hemsworth in the movie, but that was not all.

As spotted by @gameshed_, This "Dusty" skin is Chris Hemsworth's character from Extraction "Tyler Rake"

One of the 100% guaranteed signs of this is the tattoo on the arm! pic.twitter.com/FBxGwQ24Va

— iFireMonkey (@iFireMonkey) August 13, 2021
Epic Game Chief Creative Officer Donald Mustard tweeted about a year ago that Tyler Rake might appear as a skin in Fortnite. The tweet was in response to the Russo Brothers' Twitter account, which had posted a picture of Tyler Rake and John Wick, asking who would win. Donald's response to the tweet read:
Hey Joe. Maybe we should put Rake in Fortnite and find out.

Hey Joe. Maybe we should put Rake in Fortnite and find out https://t.co/oQIlMJtnCO

— Donald Mustard (@DonaldMustard) April 25, 2020
You know Donald. Once he announces something, he does everything he can to make it happen. And now, one year later, it seems to have worked. It has already been announced that there will be a sequel to the popular action movie. Perhaps similar to Free Guy, a Fortnite skin will be revealed with the premiere of the next Extraction movie. Let's hope it has a better name than, Extraction 2!

We will keep you updated when more details are announced and while you are here check out the Superman collaboration.




Create your own MyEarlyGame account to customize your home page and enter contests or tournaments!