With Fortnite: Battle Royale you can dable in crossplay! PC, Playstation, Xbox, Nintendo and even some cell phones and tablets can join. We'll show you exactly how it all works and how to activate and deactivate the function!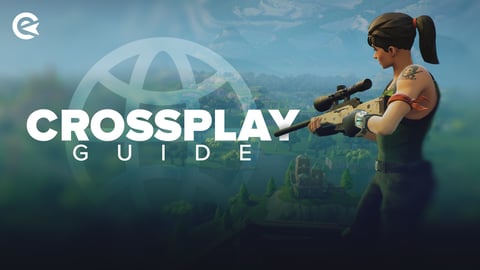 As with many other games, Fortnite Battle Royale also has the crossplay function. Crossplay allows you, for example, to play against or with players on another console such as PlayStation or PC, even if you're on Xbox or Switch. Some like it, some not so much. We'll show you how to activate and deactivate the whole thing here!
Everything You Need To Know About Crossplay in Fortnite
Of course, if you want to crossplay in Fortnite, you need an Epic account first. This step has already been taken on the PC. Xbox and PlayStation players must first connect their account to an Epic account.
To do that, click on this page and press Profile in the top right corner. Here you can now connect your account to an Epic account. The same applies to Nintendo Switch users: create an Epic account! Next you need to download the Epic Games Launcher. Now you can already add your friends from other platforms via the drop down menu to play with them. Make sure to spell their names, i.e. their Epic Account names, correctly so that you can find them. Now you are ready to go and Ready2Go! If you play with your friends, crossplay is automatically activated.
However, you should also know that all platforms usually play against their own kind. But things are different for crossplay teams. There, the players are thrown preferentially into the matchmaking of the highest-ranked platform. The order for this is:
PC
Console (PS4, Xbox One)
Mobile
Matchmaking is always based on the player with the highest-ranked platform in the team. So if you have a PC player on your team, you will probably play in PC lobbies. However, you can also manually enable and disable crossplay once you have an Epic account.

Enable & Disable Crossplay in Fortnite
Most prefer to play without crossplay. After all, PC gamers in particular are real sweatlords, and console gamers don't necessarily want to compete against them. We'll show you step-by-step how to enable and disable crossplay on each platform.
Crossplay on the PlayStation

On PlayStation, do the following:
Open the menu by pressing Start and select the gear icon.
Choose settings.
Open the Account and privacy tab in Settings.
Scroll down to Gameplay Privacy, where you'll also find the Allow crossplay setting.
Set this to Yes to enable cross-platform play or No to disable it.
Crossplay on the Nintendo Switch
The same applies to Nintendo Switch users as to PlayStation players. So follow the same steps as listed above.
Crossplay on Xbox
It's a little different on the Xbox. Follow the steps below to enable or disable crossplay for Fortnite:
Press the Xbox button on the controller to open the guide, then go to Profiles & system > Settings > Account.
Select Privacy & online safety > Xbox privacy > View details and customize.
There you will find the Communication and Multiplayer tab. Select Allow to enable crossplay and Block to disable crossplay.