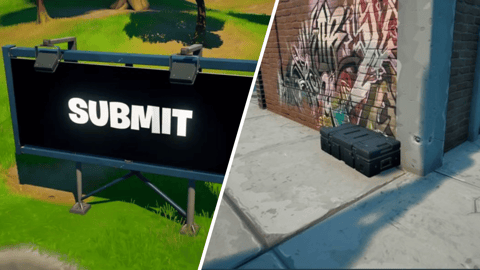 If you're having trouble with Fortnite's legendary week 9 challenges, then you have come to the right place. We'll show you where to find all the detectors and alien billboards on the Fortnite Season 7 map, so you can cash in on Battle Pass Stars fast!
If you're looking for a Fortnite detector that you can equip to disable an alien billboard, you'll quickly realize that it's not as easy as you think. You must first find a detector and then survive long enough to reach a billboard before someone picks you off with a Bolt-Action Sniper Rifle or before the storm closes off the location you're heading. To make this easier, we show you places where the Detectors are close to the Billboards, so let's get to it!
Where are Detectors and Alien Billboards in Fortnite
The Detectors and Alien Billboards are located at the following eight locations:
Believer Beach
Boney Burbs
Pleasant Park
Craggy Cliffs
Dirty Docks
Retail Row
Catty Corner
Misty Meadows
In all locations except Catty Corner, there are at least two billboards, which makes it a little easier to find them before you get eliminated by an enemy. The large billboards are really hard to miss, and you should be able to spot them from quite a distance away. However, it's a bit harder to find the Detectors needed for the first part of the quest. The easiest places to find them are at Dirty Docks or Catty Corner, as both have a Detector and a Billboard right next to each other. They're also less likely to be busy, so you'll hopefully have some peace and quiet in order to complete this task.
Stop right there! Have you completed the Week 9 Challenges yet? Okay, you may proceed.
Head on Over to Dirty Docks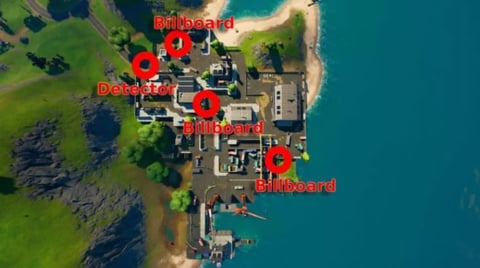 Head Over to Catty Corner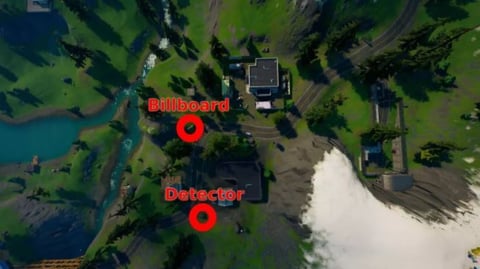 How to Equip a Detector and Disable an Alien Billboard in Fortnite
To equip a Detector, you need to approach it and simply interact with it to equip it. Your character will also wear something on its back as a visual indication. Next, you have to find a billboard where you need to press interact again to disable the subliminal alien propaganda and turn the advertisement back into a nice consumer-friendly message.

And that's it. This legendary challenge gives you 45,000 tasty XP. We hope our little guide was helpful. You can find more in our Fortnite Challenges section, or you can do the other Legendary Quest, Fortnite: Where to Place Spy Probes!

For more Fortnite news and guides on challenges, check our Fortnite section.
Original Article by Alisa Eiber