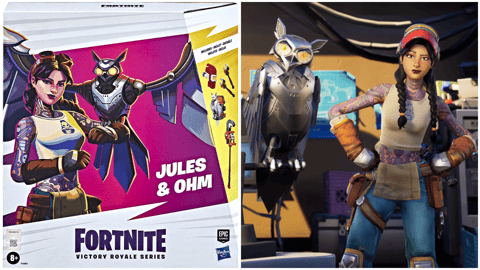 Fortnite has flipped the script and plans to release a figure with Hasbro. This Exclusive figure will feature Jules & Ohm from Fortnite Season 8!
Fortnite Season 8: Cubed has just gone Sideways and players are already enjoying the chaos brought on by the purple cubes scattered across the island. If you're looking for something to show off on your desk or bookshelf, something for your stream's background, or just to your friends, then Hasbro has the hook-up with this Jules & Ohm figure set.
What does the Jules & Ohm Figure Include?
Upcoming Hasbro x Fortnite Figure

Jules & Ohm
Price: $41.99 USD
Release Date: December 1, 2021
Jules Figure Size: 6-Inches Tall

Amazon URL: https://t.co/bJzxuuzFcX

Thanks @SpushFNBR & @FN_Assist for letting me know! pic.twitter.com/URY7LZGRbn

— iFireMonkey (@iFireMonkey) September 16, 2021
The Jules Figure comes with these accessories:
15cm Jules Figure
Red Welder's Mask
Wrenchers Harvesting Tools
Ohm Perch Backbling
Big Wrench Pickaxe Alt Wings Glider
How much does the Jules & Ohm Figure Cost?
It is not cheap, we will tell you that! In fact, it is rather expensive: The Hasbro Jules figure will run you $41.99 USD! That is a lot of V-Bucks my Fortniters, and unless you are a hardcore Fortnite fan or want a really cool gift for a friend or child in your life, then perhaps there are 50 other ways you wish to spend your hard earn dollars.
Where & When to Buy Jules & Ohm Hasbro Fortnite Figure
Like most things in this world, the Hasbro Jules & Ohm Figure set is available at US retailers and Amazon. It is possible it may come to EU markets in the future, but don't hold your breath. Better to try and snag one off of US Amazon before they all sell out. The Jules & ohm figure will be released on December 1, 2021.
It is hard to say if this figure will be something collectors are after, since Hasbro can literally make as many as they want, whenever they want. Since the price is so high, we imagine that this could be somewhat limited in its print run and could be a worthwhile investment if you're looking to treat this as a collectible.
Epic Games does a lot of collaboration and brings things into Fortnite, but it is much rarer we see something from Fortnite come into the real world. Here is your chance to literally get your hands onto some Fortnite.
Check out MyEarlyGame for a customizable experience with tons of perks. Get engaged on Twitter and Facebook.