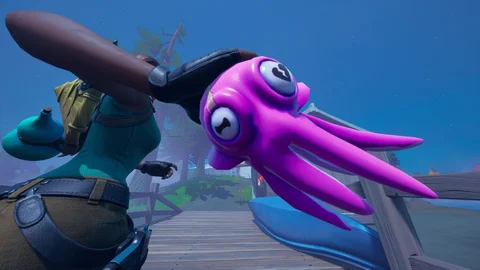 Fortnite Chapter 2 Season 7 is almost here and some data miners have found out that there might be new animals in Fortnite soon. Among them kangaroos, octopuses, and platypuses!
Chapter 2 Season 6 of Fortnite was themed "Primal" and brought animals to Fortnite for the first time ever. Now, Fortnite Season 7 is just around the corner and there is a lot of speculation about what Epic Games has planned for the next big update.
There are many hints of a possible alien invasion, but now some leaks show that there could also be new animals in Fortnite Season 7!
What New Animals Will There Be With Fortnite Season 7?
A leak came from Fortnite data miner LunakisLeaks, who also alluded to the arrival of aliens in Fortnite Season 7. In the same tweet, the leaker also listed a few new animals that will be joining the Battle Royale, including:
Kangaroos
Octopuses
Platypuses
Upcoming Season 7 Aliens - Animals | #Fortnite

- Kangaroo

- Octopuses

- Platypus

— LunakisLeaks - Fortnite Dataminer (@LunakisLeaks) May 29, 2021
It's not clear how Epic Games plans to integrate these creatures into the island, but there could be a new desert area where the kangaroos could roam. Octopuses may represent new enemies in the waters, while platypuses will most likely roam near smaller water areas such as Lazy Lake.
Of course, the animals have not been officially confirmed by Epic, so we will have to wait and see if new animals will really come to Fortnite.
Read More:
Looking for more Fortnite content? Then check our Fortnite section. We have the best leaks, news, and guides for you! Register for MyEarlyGame to participate in exciting tournaments and awesome giveaways.
Original article by EarlyGame's Alisa Eiber.