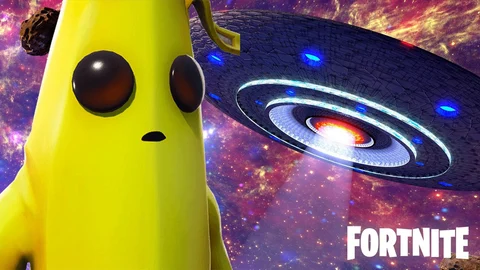 A new Fortnite Season 7 teaser trailer has been leaked. The aliens should be landing in Fortnite Season 7 very soon, so let's check out what their teaser trailer entails.
Something has touched down and made contact with the Fortnite player base. Aliens have sent out a mysterious teaser trailer for Fortnite Season 7.
Check out the leaked Teaser Trailer for Season 7!
*Possible* leaked Season 7 teaser, someone sent me this via email and I have no idea if its real or not, but it does look too good to be fake..

You can see a cow, someone standing & a crop circle (at 0:10) pic.twitter.com/vsKJlJ2uUd

— HYPEX - Fortnite Leaks (@HYPEX) June 7, 2021
The source of the teaser trailer is from the well-known data miner Hypex. They were unable to confirm if it was official or not. However, this trailer is way too good to be fake and chances are it is legit. If you notice the alien symbols on the screen, they match the mysterious alien puzzles that have been circulating in the Fortnite community.
Finally, if you look closely enough in the teaser trailer for Fortnite Season 7, you will see the same crop circles that appeared at colossal crops.
Fortnite Season 7 Alien Puzzles
These alien puzzles spell out words related to Fortnite Season 7 and many suspect it spells out an entire sentence. One such phrase was "they are coming", undoubtedly referring to the aliens that plan to invade the Island of Fortnite.
If you are looking for more alien mysteries to solve, you can complete the Foreshadowing Questsstill in-game, but better hurry, because Fortnite Season 7 will soon officially release, and they will all be unavailable then.
Check out MyEarlyGame for a free and customizable experience. Get engaged on Twitter and Facebook.