Get ready for Soundwave, a series of music shows featuring artists from around the world! Find out exactly what the Soundwave is, when it's happening, and which artists will be there here!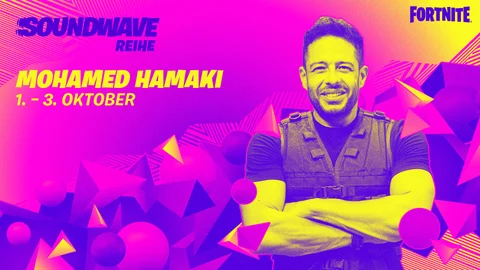 How Can I Participate in the Soundwave Event in Fortnite?
In addition to his hits, Hamaki will perform his new song "Leilt Elomr" for the first time. To be able to participate, all you have to do is join the "HAMAKIS MUSIC EVENT" mode starting Friday, October 1 at 20:00 CEST. The show will be replayed continuously for 48 hours, until Sunday, October 3 at 20:00 CEST. You also have the option to watch the show via picture-in-picture in Battle Royale mode. However, this is only possible at certain times of the event, and you can access it through the settings.
Free Spray: Soundwave Series Hamaki & Leilt Elomr Emote
Of course, there are also matching cosmetics for the event. If you go to the show, you'll receive the free Soundwave series Hamaki spray as a souvenir! To take it to the next level, you can still listen and dance to "Leilt Elomr" and to celebrate the song's debut performance, the "Leilt Elomr" emote will be available in the item shop starting Friday, October 1 at 02:00 CEST.
Which Artists Will Perform at the Next Soundwave Events?
In the coming months, you can also catch shows by Australian singer-songwriter, Tones And I, Brazilian rapper, Emicida, Japanese pop artist and producer, Gen Hoshino, and record-breaking Malian-French singer, Aya Nakamura.
So, have fun with the first show of the Soundwave series. Of course, we'll let you know when the next Soundwave event is coming up!



Sign up for a free account with EarlyGame and customize your news experience. Members are automatically entered into our monthly giveaways and able to join exclusive tourneys too, so if you've got 30 seconds - follow this link.
This article was originally written by Alisa Eiber.