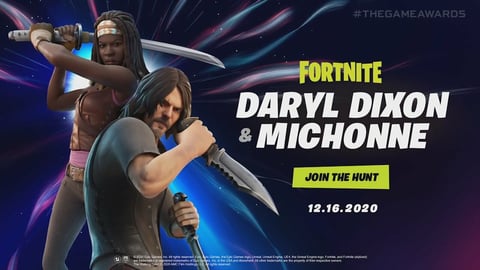 Fans of The Walking Dead, take note: If you're eagerly awaiting the new season, we've got the perfect thing for you to do. Daryl and Michonne are coming to Fortnite!
On December 10, Geoff Keighley hosted his annual Game Awards show, where developers and gamers come together to celebrate the year's best titles and get a glimpse of what's to come. During the event, a segment was also dedicated to Fortnite, which blew away fans with some EPIC announcements (get it, do you get it?).
Now, the Master Chief's announcement may have cast a long shadow across the next couple of announcements, but it was not the only surprise! Skins for The Walking Dead were also announced for Daryl and Michonne, and we have all the info, price, and release for you!


Announced at @thegameawards, the next two Hunters are Daryl Dixon and Michonne!

Grab the Set when it comes to the Shop on 12.16.2020 pic.twitter.com/h3Ee1CyDF8

— Fortnite (@FortniteGame) December 11, 2020
Michonne and Daryl Skin Release
Master Chief has already appeared in the Item Shop, but The Walking Dead fans will not have long to wait until they can play as their favorite characters! Next week, on December 16, the skins will materialize in the Item Shop, crisp and straight off the rack...
In the trailer, we saw Daryl and Michonne just about to fight some zombies, when suddenly Jonesy fell out of a crack. Shortly after, he teleported them to the Fortnite world to recruit them as heroes who will help him implement his plan for the island.
The Walking Dead Set Price
Whilst the pricing has not been officially announced for these skins, players should expect to pay a premium price for the set. The Master Chief bundle is being offered for 2,600 V-Bucks, which is already discounted 1,400 V-Bucks off the normal price. The Master Chief skin itself costs 1,500 V-Bucks, so we can probably expect similar prices for the skins from The Walking Dead.
As for other skins added to the game within their crossovers, there will likely be additional cosmetics for the two characters along with their main skins. Of course, we're hoping for Michonne's famous katana as a pickaxe and Daryl's crossbow as a back bling here!
READ MORE:
For more gaming and esports news, stick to EarlyGame. Stay tuned to our Twitter and Facebook, and check out our YouTube channel!
Original article by EarlyGame's Alisa Eiber.