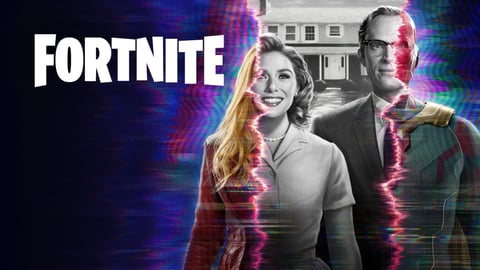 A new Fortnite leak has hinted that the game could soon get two WandaVision skins. We have all the info for you!
Fortnite is known for its epic crossovers and Season 5 takes it to the next level. So far we've seen Kratos from God of War, The Flash from DC, the 80s movie icon Predator and the Mandalorian show up on the Fortnite island. Last week Fortnite received some skins from the Tron movies and now fans are wondering which hero might be next.
It seems they won't have to wait long for an answer as leaks have surfaced convincing players that Marvel characters Vision and Wanda Maximoff (aka Scarlett Witch) will join Iron Man and Storm in the game.

Is WandaVision coming to Fortnite?
After the Fortnite v15.40 patch update, two new hunter portals were discovered by leakers.
One will be known as Kepler, which will spawn a male skin. The other, known as Skirmish, is expected to be a set of one male and one female, similar to Daryl and Michonne from The Walking Dead.
Players are already trying to figure out who it might be. Some suspect the male and female duo Wanda and Vision from the Disney+ series WandaVision will soon be welcomed in Fortnite.
Here are the next 2 portals (left is codenamed "Skrimish" & right is "Kepler") the left one has a weird yellow glow & pixels effect (HD Video: https://t.co/VuVYiBctCs)

NOTE: This wouldn't be leaked without @FunGamesLeaks' huge help so drop him a follow please Red heart pic.twitter.com/hdaCj8660E

— HYPEX (@HYPEX) February 16, 2021
According to leaker ShiinaBR, there are currently three scrambled skin and cosmetic sets codenamed BikeCatch, ToneTrip and AcutePanic. One of them is the one that contains a male and a female skin and two in particular sound like they could fit WandaVision.
ToneTrip could refer to the change in tone that takes place in each episode of WandaVision, as the show recreates sitcoms from different decades. AcutePanic could refer to the panic Wanda experiences when people slowly find out that her mind-altering reality is a fake.
Interestingly, the theme of Fortnite Season 5 is very similar to the plot of WandaVision.

Wanda uses her powers to stop the citizens of a town from escaping their perfect reality, while Agent Jonesy uses the best hunters in the world to stop the players from escaping the island. Sounds like Wanda could definitely help him with that....
There are currently 3 sets encrypted (2 new hunter sets + another one), here are the code names:

- BikeCatch
- ToneTrip
- AcutePanic

— ShiinaBR - Fortnite Leaks (@ShiinaBR) February 16, 2021
Of course, this is all speculation and it's not yet confirmed if we'll actually see skins from WandaVision in the game.
The final episode of the series is expected to air on March 5, 2021. For this reason, it would make sense to launch the crossover soon to give both WandaVision and Fortnite a good marketing push.
Create a MyEarlyGame account now! It lets you customize our site and enter all our giveaways. You can also follow us on Instagram or join our Discord for a fun chat.
Original article by EarlyGame's Alisa Eiber.