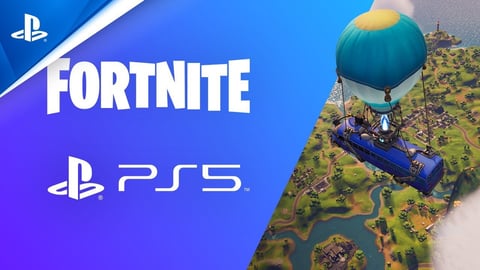 If you plan to play Fortnite on your new PS5, you should know that you will have to download a new version of the game first. An upgraded version. You needn't worry though, it's easy!
You finally have your new PS5 in your hands and are transferring your data and games to the brand-new machine? Damn. Living the dream. Look at you, you made it. Fortnite also made it over to the new system, but... what is this? When you try to open the game, the message 'available for PS4 only' appears. What now? What's going on?
Don't panic! You will be able to play Fortnite on PS5 – a new and upgraded version.
I dropped $500 on a machine that can't even play Fortnite #PS5 pic.twitter.com/dcvilJ1HQJ

— BlitzZieg (@BlitzZieg) November 12, 2020
Fortnite on PS5
Epic Games have released an overview of the next generation features for Fortnite on PS5 and Xbox Series X. On both machines, Fortnite now supports 4K resolution at 60 FPS, faster match load times and dynamic graphics and physics. The split screen multiplayer will also run at 60 FPS. The Xbox Series S will, of course, not support 4K and will run at 1080p instead.
The PS5 version also has some features that are exclusive to the console, such as the ability to select the preferred game mode via the home screen and some DualSense features.
The #PlayStation5 launches today and you can play Fortnite on it right now! Play on PS5 and experience:

-Vastly improved visuals while still running at 60FPS
-Faster load times
-Haptics support for DualSense Controller

Read about it here: https://t.co/67dfhaYSEC

— Fortnite (@FortniteGame) November 12, 2020
As Epic explain in detail in an article on the next generation features, long time players making the leap to the PS5 can transfer their progress by logging into their Epic or PSN account. However, there's no way around downloading Fortnite again from PlayStation Store. While other games can be streamed and played directly, the Battle Royale game has received a brand-new version for the new console. You probably already know how to download games, but just in case, here's a little guide:
Go to the PlayStation Store.
Search for Fortnite and select the game.
Press Buy > Confirm purchase > Download (Don't worry, Fortnite is still free to play)
You can find your purchases in the games library.
Select the game and start playing after the download has finished!
We hope we were able to take away any concerns over Fortnite's PS5 availability. For more Fortnite stuff stay with EarlyGame or check out our YouTube channel.
Original article by EarlyGame's Alisa Eiber.