Another day, another Fortnite Winterfest challenge! Today we're going to show you where to find a Christmas present on the Fortnite map and how to use it.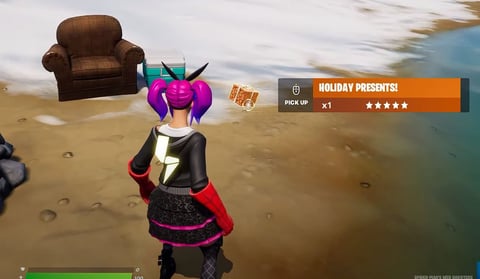 It's the best time of the year - Xmas in Fortnite Chapter 3 ! And the new Winterfest challenges require you to use a Christmas present - just in time for Christmas! We're not going to be told twice, are we? So let's go! Let's take a look at where to find the Christmas gifts on the Fortnite map and how exactly to use them.
Where to find the Christmas gifts in Fortnite
In order to use a Christmas present in Fortnite, you have to find it first. It's important to mention that the presents that Sgt. Winter throws out of his Christmas truck do not count towards this challenge.
Therefore, you unfortunately have no choice but to search for gifts as random floor loot. It will likely take a few games to find one, unless you're very lucky. However, you can increase the chance of finding them by landing in the right locations.
To do this, go to a POI on the map that has more ground loot than anywhere else.
Good places to do this includes Sleepy Sound, The Daily Bugle, and Condo Canyon. The gifts are relatively small and look like the picture above.
How to use the Christmas gifts in Fortnite
Once you've found a Christmas present in Fortnite, all you have to do is throw it to use it. The best thing to do is to throw it right in front of your feet, then you can loot undisturbed by opponents. The Christmas present almost always contains a legendary weapon! So it's definitely worth looking out for the gifts.

You don't have to do more than that. Once the gift is thrown, the Winterfest Challenge is complete, and you will receive 18,000 XP for your Battle Pass. Quite a simple challenge, actually, and quite rewarding. Don't forget to complete as many Winterfest missions as you can to earn the fancy Winterfest rewards! We wish you every success, and of course:

Merry Christmas!