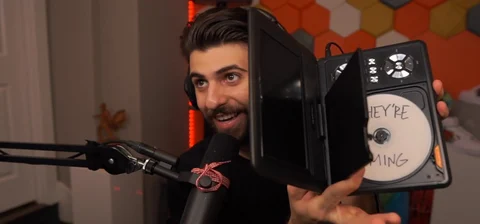 Fortnite Season 6 is nearly over and the speculations are running wild. What will happen in Fortnite Chapter 2, Season 7? Will aliens invade Fortnite, abduct and probe Agent Jonesy for information? Guess, I missed that episode of the X-Files!
Let's dip and dab into some rumors!
When Will Fortnite Season 7 Start?

Fortnite Chapter 2, Season 7 is expected to release around June 8, but the exact release date has not been confirmed by Epic Games yet.

As a dealer in leaks and speculation, we can confirm, there is surprisingly little official information about Season 7 of Fortnite, which only adds to the mystery. However, thanks to the data miners, shout out to my boys IFiremonkey and Hypex, they have discovered a few nugs of leaked gold.

Also, SypherPK was hand-delivered a top-secret package from Epic Games' Tod Sweeny, and brace yourselves Fortniters, it's going to be intergalactic!
Alien Invasion in Season 7

With the latest Fortnite patch 16.50, the Foreshadowing questline was introduced. It is widely believed that this five-part epic quest line will connect seasons 6 and 7 of Fortnite.

In the first two quests, you'll have to repair a couple of damaged telescopes as well as investigate a crashed helicopter. When you've done the latter, the following mysterious message will appear:
"India Oscar destruction cluster approaching. Opsec level 3 is in effect. Repeat: Opsec 3 is ready."
It seems that the denizens of Fortnite are already investigating the strange happenings. However, the posters around Sweaty Sands still remain a mystery. These posters show aliens and humans doing something...
#Fortnite v16.50 Map Changes and Updates

Various posters for Aliens on Earth can be found in and around Sweaty Sands! Expect this to link in with the upcoming Foreshadowing Quests. pic.twitter.com/P11tapYsXj

— FNAssist - News & Leaks (@FN_Assist) May 25, 2021
Here's another poster that should be somewhere in the map right now, basically confirming what I said earlier about UFOs appears at the end of this season! pic.twitter.com/RuEKPKJfLp

— HYPEX (@HYPEX) May 26, 2021
Finally, a number of Fortnite creators like SypherPK, Loserfruit, and Muselk have received mysterious DVD players with footage of crop circles and other alien trappings.
Ali-A has now also received a DVD player with the #Fortnite Teaser video!

His video the same as InTheLittleWood's suggesting it is likely based on where the Content Creator's region is!

So far:
Australia = Video 1
UK = Video 2#theyrecoming https://t.co/t4mP2SQ3ZD

— FNAssist - News & Leaks (@FN_Assist) May 26, 2021
Muselk has now also shown his #theyrecoming DVD!

Being in Australia, he has the same footage as Loserfruit and AussieAntics. Even further confirming that it is determined by their region and likely filmed there too.
( @VenomLeaks)pic.twitter.com/207SdSZAYu

— FNAssist - News & Leaks (@FN_Assist) May 27, 2021
According to SypherPK, different recordings were sent to different Fortnite creators. Some of these videos show different icons and some show different locations. In the video, SypherPK says that Epic Games claims that they are not the ones who sent these packages, but this is probably just clever marketing.

Whatever Epic Games has planned for Fortnite's Season 7, it's going to be exciting! We'll keep our eyes on the sky, so check back with EarlyGame!
Original Article by Alisa Eiber