New Fortnite leaks have surfaced stating that there will be a Fortnite x The Matrix crossover in December.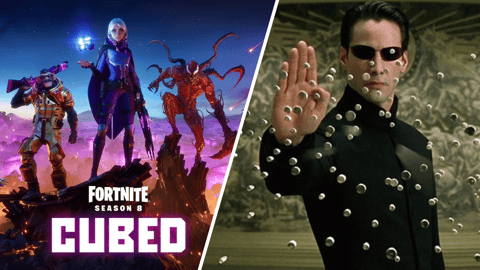 Epic Games has probably done it again and come up with another amazing collab for Fortnite. In the past weeks and months, there have already been crossovers with Naruto Shippuden, Resident Evil, and Dune. But now it seems that the gaming developer has gone a step further, as Fortnite leakers have found files that point to a Fortnite x The Matrix crossover.
Will There Be A Fortnite x The Matrix Crossover?
According to our friend and starlet of the Fortnite leaker scene HYPEX, the game will welcome some Matrix items next month. HYPEX notes that the crossover will specifically take place in the second half of December, which makes sense considering that The Matrix Resurrections will be released on December 22. This installment is the sequel to 2003's The Matrix Revolutions and the fourth installment in the Matrix film series overall.

While the details of this collaboration have not been announced yet, it seems very likely that the characters Neo and Trinity from the Matrix movies will be coming to the island as Fortnite skins. At the same time, it seems that there will also be another fashion collab. However, HYPEX stresses that this is not Gucci.
According to the same sources: A Fortnite x Matrix collab (Neo & Trinity) is planned for the second half of December. pic.twitter.com/VdEkgTwyGg

— HYPEX (@HYPEX) November 18, 2021
If the rumors are true, this could be a pretty heavy month for Fortnite. Previous leaks have suggested that not only could Fortnite continue with Chapter 3 in December, but also that there will be a Spider-Man crossover to coincide with the release of Spider-Man: No Way Home. Coupled with the fact that Epic Games has already announced a Boba Fett skin, December is going to be a very busy month for the battle royale shooter.
But hey, we love The Matrix and are looking forward to seeing this rumor come to fruition!