Along with Chapter 4 Season 4 a bunch of new characters have come to the new Fortnite island. These NPCs give you access to weapons, quests, and special items like rifts and disguises, so knowing their exact location is important. Here's a quick and easy overview about all NPC spawn locations in Fortnite Chapter 4 Season 4 and where to find them on Fortnite island.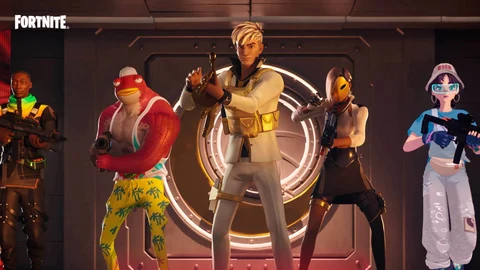 With Fortnite Chapter 4 Season 4 the map has changed again!
Perhaps you have already encountered one or the other resident of the island on your journey of discovery through the new places. As always, these characters have some pretty nice stuff for you, sell you cool mythical or exotic weapons, rifts, or let you hire them to fight alongside you on the island.

Sounds exciting, doesn't it? Of course it does. So here we have compiled a list of all the NPC characters and their locations on the island of Fortnite.
Fortnite Characters: NPC Locations On Chapter 4 Season 4 Map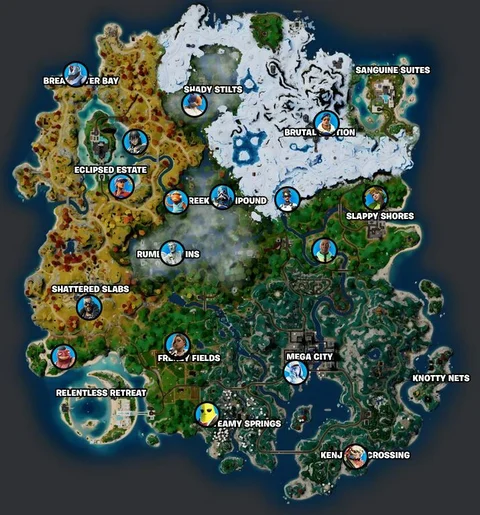 Some characters no longer dwell on their spawn point, instead wandering around on a set path. Also, certain characters have multiple spawn points or share their spawn area.
So if you don't find a certain character, it either didn't spawn, or another player already killed or recruited the NPC. It's best to just start a new round. With all that said, let's take a look at the 18 NPC's that are available on the map.
#1 Nolan Chance (Frenzy Fields)
Key & Furniture Disguise & Twin Mag AR & Scout Specialist
#2 Pipier Pace (Slappy Shores)
#3 Fish Thicc (Between Shattered Slabs & Relentless Retreat)
#4 Antonia (Frenzy Fields)
Suppressed Sniper Rifle & Business Turret
#5 Khaby Lame (Between Slappy Shores & Mega City)
Suppressed Sniper Rifle & Shockwave Grenade
#6 Meowscles (Shady Stilts)
Sharp Tooth Shotgun & Shield Fish
#7 Love Ranger (Rumble Ruins)
Heisted Accelerant Shotgun & Crash Pad Jr.
#8 Renegade Shadow (Shattered Slabs)
Infiltrator Pump Shotgun & Key
#9 Agent Peely (West of Steamy Springs)
#10 Arctic Assassin (Between Creeky Compound & Slappy Shores)
Thermal DMR & Shield Potion
#11 Diamond Diva (Mega City)
Maven Auto Shotgun & Remote Explosives
#12 Countess Daraku (East of Eclipsed Estate)
Havoc Suppressed AR & Shield Potion
#13 Bull Shark (Creeky Compound)
Scout Specialist & Thermal DMR
#14 Royale Bomber (Brutal Bastion)
Supply Specialist & Combat SMG
#15 Beastmode (Breakwater Bay)
Heavy Specialist & Sharp Tooth Shotgun
#16 Sun Strider (North of Eclipsed Estate)
Medic Specialist & Med-Mist
#17 Fishstick (West of Creeky Compound)
Twin Mag Assault Rifle & Slap Splash
#18 Joni the Scarlet (Kenjutsu Crossing)
Scoped Burst SMG & Shield Breaker EMP

What Do NPCs Do In Fortnite?
Every NPC in Fortnite Chapter 4 will sell or drop you some item. Some items require you to pay with gold bars to get the item.

It should also be mentioned that if you ever shoot at an NPC, they will suddenly turn hostile and shoot back at you. In most cases, it's better to just run away, otherwise you risk getting killed by them.
And you don't want that, do you? But don't worry, if you've put some distance between you and those hostile NPC's and there's no other player around, they'll calm down after a while too, so it's easy.
And done! Now you know where each NPC is located in Fortnite Chapter 4 Season 4. Hope this is helpful in finding your new Fortnite favorite.
This article contains affiliate links which are marked with [shopping symbol]. These links can provide a small commission for us under certain conditions. This never affects the products price for you.