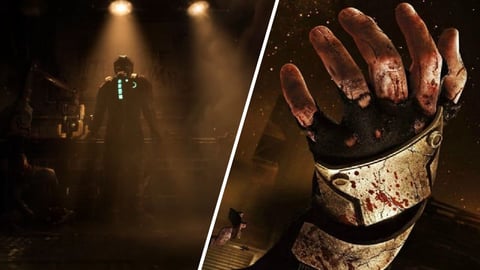 The EA Play Live showcase just ended with a bang. We got to see the first reveal trailer for their new Dead Space Remake. It was short, but every bit as exciting as you might expect. Here are the details.
EA just finished their premier showcase of the year: EA Play Live. And if that display was anything to go by, it shows why more and more publishers are moving away from the E3 model and are instead hosting their own events. It was a real spectacle, and coming off the back of Activision Blizzard's sexual harassment lawsuit filed earlier this morning, EA are looking like the good guys of gaming for a change. For an overview of the event and everything we saw just follow this link, but now - drum roll please - let's dig into Dead Space, and the announcement of a remake 8 years on.
The Dead Space Remake Trailer
As we said, this was revealed as a surprise in the closing moments of EA Play Live, and it was a great crowd-pleaser. Here's the trailer, now uploaded in full, from Dead Space's official Twitter:
//INCOMING RIGLINK MESSAGE

>>DISTRESS SIGNAL DETECTED
>> UPLOADING...

Dismember your worst nightmare - limb by limb. Revisit the first #DeadSpace, rebuilt from the ground up by @MotiveStudio. pic.twitter.com/gTm2rb4AaO

— Dead Space (@deadspace) July 22, 2021
The trailer doesn't give away much, but we know it's a remake of the 2008 original. It's going to be years and not months away though unfortunately, otherwise, a release date would have been revealed as well.

If you love a good gaming conference then you probably enjoyed E3, we know we had a blast, in case you missed it here were some of the big reveals:
How Have The Fans Responded?
The response was largely positive. Let's not be mistaken here, this isn't on the same level of magnitude as, say, a surprise GTA VI trailer would be. But it's something of a cult game, so there's probably a number of fans who are thrilled to see this, like Twitter user @djtrump0927:
ITS BEEN SO LONGGGGGGGG pic.twitter.com/nBugUsMTxx

— Donald (@djtrump0927) July 22, 2021
Of course, there were also naysayers, who were largely disappointed by the same thing. Is a remake better for this franchise or a new game?
remake of the original which doesn't need a remake. should have just done a remaster of the trilogy and do a brand new game. don't think EA understand why capcom actually did a remake of RE2, its because it needed it, dead space does not need remaking.

— Simon Jones (@xnshd) July 22, 2021
The first Dead Space is very good, but is it iconic enough to justify a remake? I think that a new game would've been more exciting, but perhaps EA saw this as the safer move; Horror certainly isn't the most profitable or reliable genre in the industry.

Did you want a remake or a new game? Let us know on Facebook or Twitter, and don't forget - you should consider joining MyEarlyGame for loads of great giveaways, exclusive tourneys, and a customizable home page.