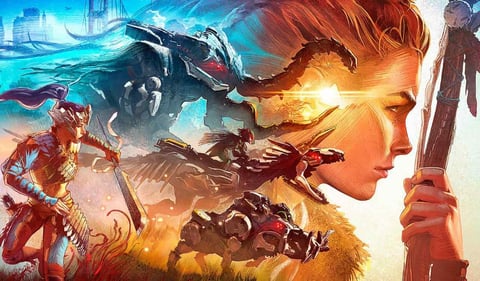 Horizon Forbidden West: What's the release date? Is it a PS5 exclusive? What do we know about the story and the gameplay? What's the meaning of life? How do I achieve eternal happiness? We got all the answers.

If you have a soul, you played Horizon Zero Dawn and if you have taste, you liked it. Facts. Now, if you have a PlayStation 5, you're lucky and your lucky behind is eagerly waiting for Horizon Forbidden West's release date.

That's where we come in:
What's The Horizon Forbidden West Release Date?
Horizon Forbidden West will release on February 18th, 2022. This was confirmed at the Gamescom 2021 yesterday. The original release date, that we also had in this article before, was late 2021, but due to COVID and wanting to make it the best game possible, the devs decided to move the release date to early 2022.
Horizon Forbidden West is coming to PlayStation 4 and PlayStation 5 on 18 February 2022! Pre-orders will begin next week, on 2 September. Are you ready to continue Aloy's journey?https://t.co/aMD8LIWbf8 #HorizonForbiddenWest pic.twitter.com/bRP3kToGji

— Guerrilla (@Guerrilla) August 25, 2021
Is Horizon Forbidden West a PS5 Exclusive?
No, Horizon Forbidden West is not a PS5 exclusive and will come to the PS4 as well. Now, Horizon Zero Dawn obviously got an eventual PC release date. Whether Horizon Forbidden West will come to the PC is not sure. In fact, it seems like a PC release for Horizon Forbidden West seems unlikely.
Here's what Herman Hulst, Head of PlayStation Worldwide Studios had to say about this:
"To maybe put a few minds at ease, releasing one first-party AAA title to PC doesn't necessarily mean that every game now will come to PC. In my mind, Horizon Zero Dawn was just a great fit in this particular instance. We don't have plans for day and date [PC releases], and we remain 100% committed to dedicated hardware."
What We Know About the Horizon Forbidden West Story & Gameplay
Aloy will return in this game as our protagonist and will venture into the West of far-future America. From the trailer, we glimpsed San Francisco, so that's roughly what we're expecting for the setting. Map-wise, Horizon Forbidden West is said to be bigger than its predecessor. Duh... when has a sequel ever opted to go smaller (insert sex-joke).
In terms of story, we just know that we'll get to see new tribes and new hostile machines on Aloy's journey to cure the blight.
We know a little more about the gameplay, or rather the advantages the PS5 will bring to the table:
"With the PS5's SSD, there will be virtually no loading screens. In an open-world game like Horizon Forbidden West, if you open up the map and fast travel from one end to the other, or restart from a checkpoint, it will be super fast. When you boot up the game, you're right there in the action."
Other than that, the trailer showed off an underwater world. How the robot-sharks and whales get their electronics to work underwater is a question for another day...
Folks, let's be real here: Nobody likes ads, everybody likes raffles and we all wanna feel special. Right? Sign up for MyEarlyGame and you get just that: No ads, the content you wanna see & a chance to win free stuff. No brainer, really.