If you are looking for a good betting site, look no further. interwetten offers a wide range of sports betting and online slots for everyone to enjoy.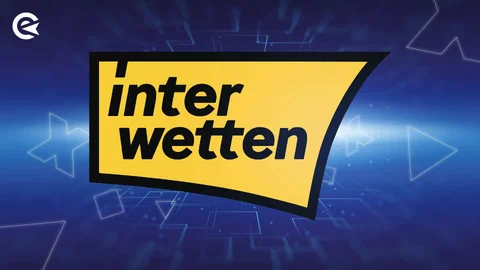 On Friday, 18th August 2023, the Bundesliga kicks off its 61st season. The season opener features a clash between SV Werder Bremen and FC Bayern Munich – this traditional matchup is taking place for the 113th time in Germany's top-flight division.
As we all know, last season Bayern solidified their status as German record champions with their 33rd title, but it was still a thrilling race to the top until the very end. And, as always, the Bundesliga provides exhilarating matches and thrilling moments year after year, where the underdogs often upset the favorites.
Those who follow the Bundesliga and other sports every year might have placed a bet on their favorite team from time to time. That's why interwetten is offering an amazing choice of sports bets for all kinds of sports and leagues.
In this article, we briefly introduce interwetten to you and explain the welcome bonus available, how you can benefit from the Bundesliga promotion, and what the slots offer looks like.
Introduction To interwetten
interwetten is an online betting platform originally founded as a sports betting provider in 1990. Since then, interwetten has grown to be one of the most renowned and reputable online betting providers in Europe. Initially launched as a traditional sports betting provider, the company went online in 1997 and has continuously expanded its portfolio.

interwetten still offers a wide range of sports bets, including football, tennis, basketball, and many other sports, covering most leagues. In addition to sports betting, the site now also offers a variety of slot games.

Along with a diverse range, the site has earned its good reputation mainly through user-friendliness, 24/7 customer service, and attractive betting odds. As expected, interwetten also offers various types of bonuses and promotions, including deposit bonuses, welcome bonuses, and loyalty programs.
Welcome Bonus
New customers at interwetten benefit from an attractive €100 Welcome Bonus. Simply register as a new customer and enjoy.
As usual, the bonus must be played through first, and you can use the entire interwetten offer, whether sports betting or slots, to do so. However, interwetten will also offer promotions available for new and existing customers from time to time, so keep your eyes peeled.
interwetten Offer
As mentioned earlier, interwetten's offer mainly consists of sports betting and online slots, with live betting also available for sports events. We will briefly introduce the offer below.
Sports & Live Betting: Do You Trust Your Team?
Having started as a sports betting provider and accumulated several decades of experience in this area, you'll find an extensive range of offerings here.

Here are some of the offers: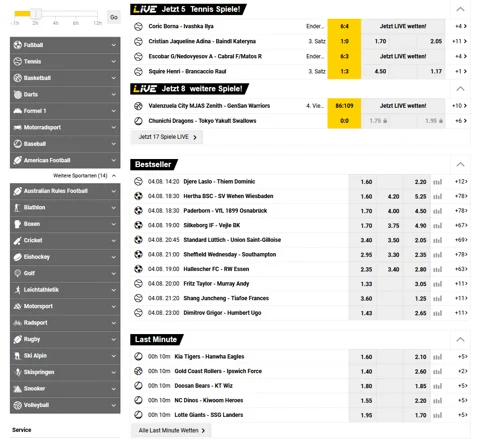 In total, the sports betting offer covers more than 50 different sports. As you can see in the image above, this includes popular sports like football, basketball, tennis, etc., but also more exotic sports such as snooker, cricket, or Australian Rules Football. In short, every sports fan gets their money's worth. Here you can place traditional bets on match outcomes, long-term bets on league outcomes, as well as live bets.
Those who don't want to bet on their team in advance, but want to bet live during the game, can use the extensive live betting offer. Here you can bet on the next goal, halftime results, the next set in tennis, and much more. Everything is real-time, and the betting odds are constantly updated, ensuring you always have access to the best odds.
Online Slots: Play Comfortably From Home
Now, let's move to the other significant offering from interwetten. Although the site's name suggests "betting" and started as a sports betting provider, they now also have an extensive range of online slots. In total, you have access to over 200 slot machines from some of the most renowned and successful publishers.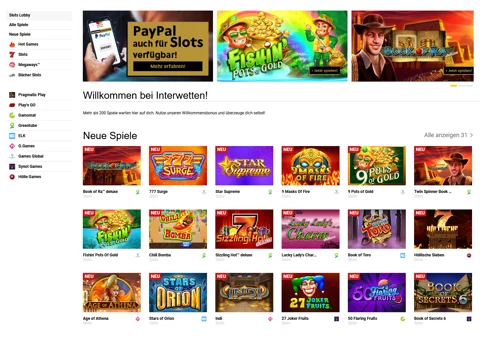 As you can see, the sheer number of slots can be a bit overwhelming, but don't worry, you'll benefit from interwetten's excellent user-friendliness. The games are categorized, and both the latest and currently most popular games (Hot Games) are displayed separately on the main page. Additionally, players familiar with specific favorites can filter by publisher. If you like Play'N Go slots, for instance, just set the filter to display all available games from that publisher.
The best part about interwetten's slots offer is that you can also test it for free. Once registered with interwetten, you can try all slot games in a free demo version. This ensures that you only deposit money once you've found a machine you like and allows you to try out new games or features anytime without investing money.
Interwetten's Mobile Offer
Lastly, for all mobile enthusiasts, interwetten has an appealing mobile offer. You can access their full range of sports betting and slots via your smartphone or tablet. Regardless of where you are, whether in the stadium, on the sofa, or on the road, with interwetten's mobile offer, you're always just a click away from your next bet or game.
In conclusion, interwetten offers a wide range of betting and gaming opportunities. With user-friendly features, an attractive welcome bonus, and a promotion for the Bundesliga kick-off, it's definitely worth a closer look. Happy gaming!
Disclaimer: Gambling is over 18 in Germany and can be addictive. Know your limit! If you are addicted to gambling, you will find several places to turn to here.