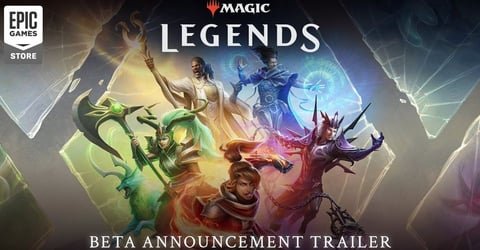 Magic Legends will enter an open beta test early this spring. Finally, players will get to test out this new action RPG set in Wizards of the Coast's MTG Multiverse. The best part: It's F2P! Release details and gameplay to follow!

Magic's new ARPG will of course have a deck-building twist to it as it is based on the MTG card game. MTG Arena has been wildly successful in the digital card space so the devs at Cryptic Studios have the massive challenge of impressing the rabid fan base of MTG players. Magic Legends is a spin-off of the world's most popular fantasy card game, Magic: The Gathering.

In the open beta announcement trailer, you can see some card collecting elements integrated into the ARPG gameplay. Perhaps you can collect cards rather than items or gear. It also appears you play as a Planeswalker and have colored spells. All things MTG players will be very familiar with.

The game has been announced as free to play and exclusively on the Epic Games Store. This is a big move by WoTC and Hasbro because they have typically released/distributed MTG properties independently. But times have changed, as they are now collaborating with both Cryptic Studios and Epic Games on this exciting new PC game.
Magic Legends open beta releases on March 23, 2021, on PC.
Make sure you stick around on EarlyGame and sign up for MyEarlyGame for that personalized content that lets you customize our website!