This YouTuber created a Zelda: Breath of the Wild multiplayer mod, where we could all play together on this beautiful open world map of Hyrule. Unfortunately, Nintendo deals very aggressively with things like these and got his video banned.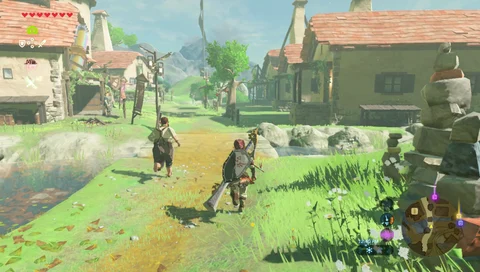 One of the most popular Legend of Zelda YouTubers, PointCrow, has created a Zelda: Breath of the Wild multiplayer mod that allows us to join each other in Hyrules open-world map online. PointCrow is known for testing out funny and impressive mods in Breath of the Wild and other Nintendo games. He recently released a multiplayer mod for Breath of the Wild. This mod is truly impressive and allows the community to come together and experience this amazing game in a whole new way.
But knowing Nintendo as we do, they don't like it when the community starts something without them. PointCrow is now facing some issues with Nintendo as they have been blocking and demonetizing his YouTube content regarding the Breath of the Wild multiplayer.
The Legend of Zelda: Tears Of The Kingdom – Release Date, Story, Gameplay & More
Zelda: Breath of the Wild Multiplayer Mod Videos Blocked By Nintendo
The famous Zelda YouTuber "PointCrow" has created a Breath of the Wild multiplayer mod. Last year, he had uploaded several videos where he and a couple of other streamers would test it out together. The entire project has attracted a lot of attention on YouTube and made the community hungry for more. This mod is bringing Zelda fans from all over the world a bit closer to each other, allowing us to share the joy of this game by playing it together.
Nintendo's Hunt For Zelda TotK Leaker Gets Discord In Trouble

Since multiplayer modes were never a huge thing in the Zelda franchise, this is a really refreshing new feature that many would love to try out. Unfortunately, Nintendo wasn't so fond of this idea, since PointCrow recently released this mod to the public on April 4. All of his videos, which have each reached over a million views on YouTube, have been blocked and demonetized due to copyright violation.
You can already pre-order Zelda: Tears of the Kingdom on Amazon to make sure that it gets to you on time
That Nintendo is quite strict when it comes to fan-made mods is nothing new. But since PointCrow himself has contributed a lot to the Zelda hype on YouTube and built an enthusiastic and active community with his content, Nintendo could have looked the other way here. Of course, he himself is not thrilled about the copyright bans either. In a recent Tweet, he publicly shared his disappointment in Nintendo America.
Incredibly disappointed that @NintendoAmerica has decided to block my videos on Breath of the Wild. It's the love for the community and the innovation that we bring to it that has kept it alive & brought new people to love the Zelda series. I hope you reverse your decision soon. pic.twitter.com/CtvjpmBrs3

— eric pointcrow (@PointCrow) April 7, 2023
This article contains affiliate links which are marked with [shopping symbol]. These links can provide a small commission for us under certain conditions. This never affects the products price for you.