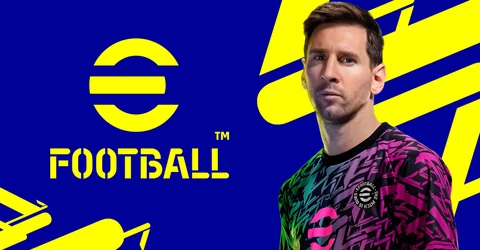 Pro Evolution Soccer (PES) will no longer exist! Konami has announced that it will rename PES to eFootball and make the game free to play. Can Konami become a serious competitor to EA Sports FIFA with this?

Now that's a doozy: PES is being scrapped, and eFootball is being launched as a Free-to-Play-game. We have all the details and info on the new Konami game.
PES Is No More! eFootball is going Free to Play
The popular soccer simulation PES (Pro Evolution Soccer) is no more, the developer Konami has announced. PES had already paused last year to switch to the Unreal Engine. Now Konami is taking a completely new approach. PES will be renamed eFootball and made available for all platforms as a digital-only free-to-play game. Phew, that's a lot to take in. It kinda sounds strange, but could also be a good idea - could eFootball become a real alternative to FIFA?.
PES Changes Its Name To eFootball
This is the most noticeable change for Konami's long-running soccer game series - PES is now called eFootball. This may just be cosmetic, but it's actually a huge deal. PES is iconic among fans and to change that name is really bold! Konami are clearly signaling that a lot will change in their football games. But what will that change look like?
Is eFootball Free to Play?
The most important news is that eFootball will be a free-to-play game. That means you won't have to pay money to enjoy the great football simulation. Sounds fantastic! There will certainly be microtransactions and certain payment models, as with any F2P game. Konami has not announced what these will look like at this point. We're very excited to see what they've come up with and hope the game doesn't suffer from messed up monetization.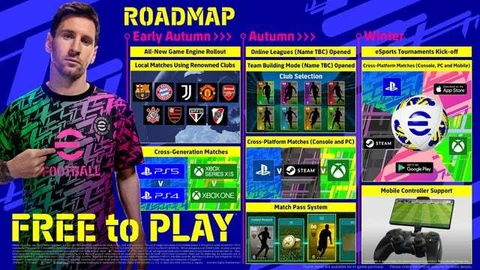 On which platforms will eFootball be available and when is the release date?
eFootball will be released for PS5, PS4, Xbox Series X/S, Xbox One, PC, iOS and Android, with a release date in the fall. We don't know more details about this, but we expect a release date in September or early October at the latest. There will be cross-play between certain platforms, including the mobile versions. See more about this in the roadmap above.

One more important info is that eFootball will only be available digitally. Yes, we also cry for the fact that the beautiful boxes in our collection, with legends like Adriano, Thierry Henry and Lionel Messi, will no longer get any new additions. But we live in the future now, where everything is digital and PES is now called eFootball.

Are you excited about eFootball? Let us know on Facebook or Twitter, and don't forget - you should consider joining MyEarlyGame for loads of great giveaways, exclusive tourneys, and a customizable home page.