Resident Evil 4 Remake review: Read here why the new version of the classic is a fantastic game that will surprise even veterans of the original.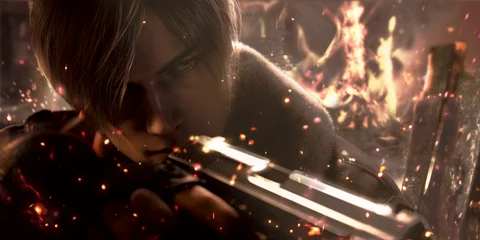 Remakes, just the word makes me queasy. Wouldn't we rather play something brand new? Sure. But still, remakes are a big part of the business and are actually getting better and better. Among the pioneers of this golden age of re-releases is Capcom, who step by step re-invented the entire Resident Evil series. And, with few exceptions, extremely good games came out of it.
This is also true for the new version of Resident Evil 4. One of the best games of all time is re-told as a modern action game and the result is amazing. Read our review to find out why we love the Resident Evil 4 remake as much as the original, despite some flaws.
Resident Evil 4 Review: Old Becomes New
If you know the original Resident Evil 4, the remake will feel quite familiar to you. Of course, it will. It would be weird if it didn't. However, it quickly becomes clear that the game as a whole is a different beast. This isn't just because many events and scenes have been moved around, removed or replaced. The basic feel of the game is different, even if the vibe and main story are pretty much the same.
In the iconic village scene in the first chapter, it's immediately apparent how everything here is familiar yet brand new. Leon, once a static action figure with perfect precision, is now a man bound by the laws of physics. With the greatest of efforts, he stumbles, pants and grunts his way through a horde of zombified enemies.
Where the original is still a very intense game, the intensity here is turned up to 11. This is also due to the "hardcore" difficulty level, which is recommended in the main menu for players who played the original. And it's really goddamn tough. I died eight times in the village before I was finally saved by the ring of the bell.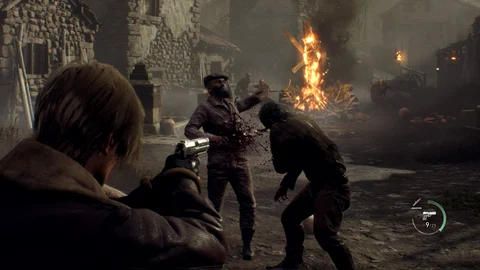 This was frustrating at first. However, this decision turns out to be a pretty clever trick by the devs. Despite the familiarity of the scenario and many levels, even veterans of Resi 4 can never sit back and relax while playing with this difficulty. This practically forces you to take a closer look at the new gameplay and mechanics. And they are absolutely fantastic.

It took me a bit to get used to the wobbly and somewhat clumsy Leon. I felt the same way about the new parry mechanic, which makes your knife look like Excalibur (I've always wanted to parry a chainsaw with a knife). But once it clicks, a downright dance of carnage unfolds between the physics-based attacks, manual dodging, and parrying. Resi 4 feels great even in the remake.
Resident Evil 4 Review: Surprisingly Surprising
It's not only the combat which has been given a dynamic makeover. Of course, I also mean the story, which I won't say anything about. Here, the game has to offer some of its biggest surprises. I'll just say that Resi 4 Remake is quite a bit darker and creepier, but the delightfully silly B-movie charm of the original is thankfully still at the core of the whole thing. Leon's silly one-liners, the larger-than-life villains, and many other silly things constantly put a smile on my face here as well.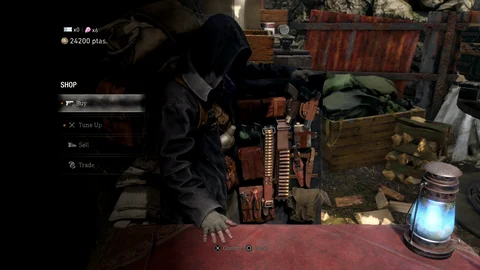 Virtually all the elements of Resi 4 have been grabbed and rethought from the ground up. All the mechanics and systems, such as the economy around the iconic merchant, the exploration of the map and side quests are not only different, but in my opinion much better than in the original. And thank God, the awesome briefcase mini-game is back in the game as well.
Only the new puzzles are a disappointment. Other survival-horror games like Signalis are much better at offering clever and interesting puzzles. And yeah, there's the whole thing with Ashley...
Resident Evil 4 Review: Escort Missions Still Suck
Once Leon finds the president's daughter, she must be protected from the Ganados. And here, too, the developers have thought about how they can make the original even better. Well, it could hardly be worse. Unfortunately, Ashley is still a huge pain.
It's not quite as bad as in 2005, mainly thanks to new commands and much better AI. But Ashley is still a pain in the ass in 2023. Not necessarily because of her annoying yelping, that has been toned down considerably. But escort missions just aren't cool, and the remake doesn't change that. Admittedly, this part of the game is much easier to manage than in the original, but the constant kidnapping of your companion is nerve-wracking, but mainly in a bad sense.
Resident Evil 4 Review: The Verdict
Rightly, there is a lot of grumbling about remakes, remasters, re-releases - Re- here, there and everywhere. Instead of setting new ingenious impulses, the old familiar is repackaged and sold again. And yes, this is to be seen critically. But, so far in 2023, Dead Space Remake, Metroid Prime Remastered, and Like a Dragon Ishin have been three absolutely fantastic games that have either reimagined and reinterpreted beloved classics, or made them significantly more accessible, not only making them accessible to a new audience, but also giving Day 1 fans a new experience.

Resident Evil 4 Remake is a fantastic game and at the top of this line of titles. This is not only due to the outstanding gameplay and great visuals. The vision of the original is kept alive with a lot of love and adoration, and modernized in an expanded and stronger way. Unfortunately, not everything turned out perfectly, but we still had so much f fun with the game. The best action game from 2005 has evolved, and is now one of the best action games in 2023.
Rating: 9/10
Release Date: March 24, 2023
Developer: Capcom
Publisher: Also Capcom
Genre: Survival-Horror Action
Playtime: 12-15 Hours
Platforms: PS4, PS5, Xbox Series X/S, PC via Steam
Note: The game was tested on PC, where it ran perfectly and there were only problems with ray tracing. The copy was provided to us by Capcom. All images in this article are from Capcom.
This article contains affiliate links which are marked with [shopping symbol]. These links can provide a small commission for us under certain conditions. This never affects the products price for you.