If you want to get a gaming chair of the highest quality, you probably heard about the brand Secretlab. We got our hands on the TITAN Evo 2022, the latest model of the Titan Series, and will tell you whether it's worth getting it or not.
It doesn't matter if you're a MOBA fanatic and love League of Legends or if you are more of a Warzone person who likes the action of Call of Duty: You need a good chair. Well... not only a good chair because, let's be honest, you rather want to kind of float and feel like sitting on a throne. Especially after spending several hours at a time on it. So you need the best chair.
Now, even if you are not a pro gamer but spend time working from home, it's no secret that the perfect chair can be a true game changer. And your wishes might come true because we got the Secretlab TITAN Evo 2022 – which comes in many different styles. How is this good for you? Well, we're going to dig a little deeper and tell you everything you need to know about this chair to help you make the decision of whether or not to buy it.
Secretlab TITAN Evo 2022: Assembly
We start with the – obviously – most annoying point when receiving a new piece of any kind of furniture. Assembling it. Fear not, though, Secretlab are the OGs. Our chair was put together by one person. Naturally, a helping hand is always better but wasn't needed for the TITAN Evo. Due to a perfect instruction which came on a nice big laminated poster and the clear packages of the smaller individual parts with perfectly fitting tools on top, it was really easy to assemble the chair in less than 30 minutes.
Anyone who has set up a gaming chair knows the problem when connecting the backrest to the seat: the mechanics often are fiddly. Not with Secretlab: This mechanism is secured with a screw that can be easily unscrewed after assembling it. Best thing: The plastic covering the mechanism is magnetic and can be attached very easily.
Secretlab TITAN Evo 2022: Comfort
Compared to other models on the market, the TITAN Evo is a bit harder. Everyone has to know for themselves whether this is seen as negative criticism, let me just say: If you prefer to sit on a kind of soft cushion, you'd better use other versions. But the chair is pleasantly stable and to be fair: you rather want to start with more of a harder seat because it will get softer over time anyway.
The backrest is well padded, but not too soft. The material is high-quality, and the seat supports your back on every level. The magnetic headrest is super comfortable, it is easily adjustable and feels great, even after leaning back for a long time. The seams are neat everywhere.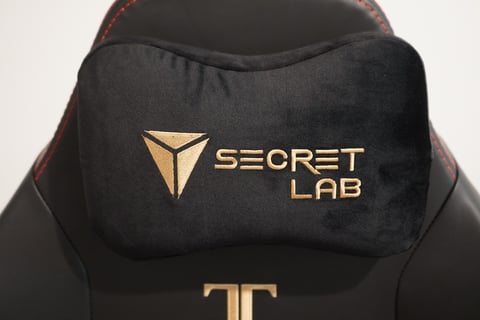 Another benefit of Secretlab chairs: they can be visually customized. There are different colors and various patterns to choose from. And speaking of different options, this is another thing that is outstanding when it comes to the TITAN Evo 2022.
Secretlab TITAN Evo 2022: Aesthetic And Handling
While we decided on a simple black and gold, a more mature design which looks great in a professional environment, you even can get chairs in the Style of T1, Cloud9 or the Worlds 2021 in LoL. So in case you want to show your passion for these teams and organizations, you've come to the right place. More of a Batman, Jinx or House Stark of Game of Thrones fan? It's all here.
The leather catches the eye with its rich black and while other gaming chairs disappoint with weird materials or strange designs, the overall impression is really something else here.
Naturally, everything you can think of is adjustable. No matter if you want to find the perfect position for armrests, the backseat or your individual height: leaning back was never as easy as here.
Secretlab TITAN Evo 2022 Review: Verdict
The Secretlab TITAN Evo 2022 represents the next-generation of gaming chairs. It's fantastically well-made and durable, and it has a wonderful design and comes in a clean package with an easy-to-understand user manual. The lumbar support is immediately noticeable and allows the user to remain comfortable for remarkably long periods while sat down.
Right now, there even is a discount, so you can get the TITAN Evo 2022 for around $540 – which in comparison to other brands, is a very good price.
| | |
| --- | --- |
| PROS | CONS |
| Easy to assemble | Seat is harder than on competitor models |
| Clean finish | |
| Comfortable – even after hours of sitting | |
| Cool designs | |
| Option to adjust just the way you like | |
So if you're looking for a new chair, or you think it's time for an upgrade of your old one, then go for the Secretlab TITAN Evo 2022. It really is one of THE chairs that gamers want to get.