The Sea of Stars reviews keep flying in, and they mostly shine stellar bright. But does it mean there aren't any drawbacks to it? Let's take a look how the ratings look like!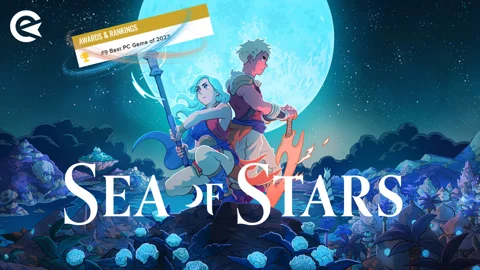 The creators of Sea of Stars, Sabotage Studio, previously made a game called The Messenger, which is a 2D action-platformer. The story of their new turn-based RPG serves as a prequel in the same universe as The Messenger.
Sea of Stars is inspired by classic titles like Super Mario RPG, Illusion of Gaia, Final Fantasy 6 and Chrono Trigger. It tells the story of two Children of Solstice who combine their powers of the sun and moon and take up the duty of defending the world from the evil alchemists "The Fleshmancer".
If you need a change of pace every once in a while, you can hang out in the world and have the time of your life. You can play a tabletop game known as "Wheels", listen to tavern music, cook something and much more. It's a love letter to the past RPG titles with a modern pixel-style.

Without further ado, let's dive into the reviews and take a look how Sea of Stars has excited many people, while also looking at the issues the game still has!
Sea of Stars: Review Overview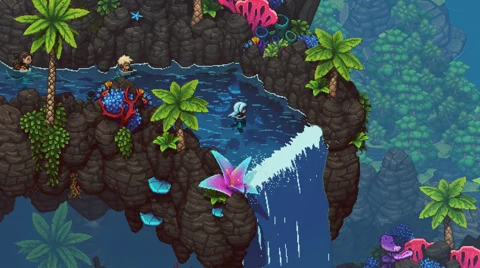 Caitlin Argyros from RPG Fan gave a top rating with an overall score from 95 and said:
I had high hopes for Sea of Stars from the moment I first laid eyes on it, and I'm pleased to report that it has lived up to just about all of my expectations. It's gorgeous, fun to play, has a great cast and story, and the music is a joy to listen to. Whether you are looking for a nostalgic experience inspired by classic RPGs or simply a great RPG in its own right, look no further than Sea of Stars.
With a rating from 80, Genghs Husameddin from XboxEra, is a little bit more critical with the narrative direction:
Sea of Stars takes formulas and gives them a nice fresh coat of paint. Even though the narrative won't hold your attention, you'll find a game that offers stunning visuals and sound design that accompanies a fun battle system with unique mechanics. Easy to pick up and play for everyone, old and new.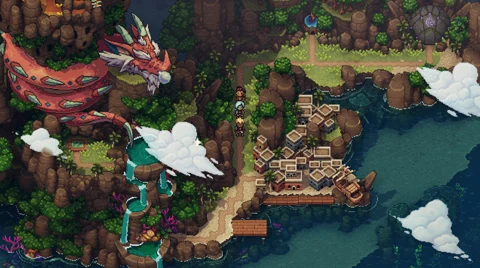 Gabriel Moss from IGN gave some valuable insights as well:
Sea of Stars is an excellent tribute RPG that channels the best parts of its '90s-era forebears like Chrono Trigger, Final Fantasy 6, and even Star Ocean: The Second Story. Because of that, it's fair to say that its world, graphical style, and mechanics aren't wholly original, but there are enough interesting twists in its 30-hour story to make for a rich and enjoyable experience of its own merit. This isn't just nostalgia fodder. That said, its twitchy combat can be difficult to get a handle on, and once you do, it only stays interesting for so long before its limited customization options make it start to feel just a little repetitive. That's made up for by a strong soundtrack, an approachable and endearing story, and a wide number of fun zones and boss fights that make this a trip worth taking.
After her journey, Alana Dunitz from GameGrin, had some praising words for Sea of Stars left:
Sea of Stars is an amazing-looking and sounding title that has captured all you love from classic turn-based RPGs and improved upon it. I can't recommend this game enough; this is how you modernise and pay tribute to a classic genre.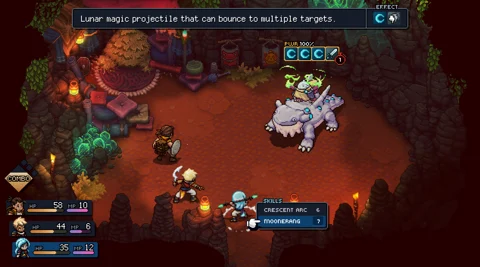 Last but not least, Kyle Hilliard from Game Informer, he loves the game and point out the improvements the devs made beforehand:
Sea of Stars is a stellar throwback that appeals to fans like me who love 16-bit RPGs, but it also functions as an excellent entry point. Annoyances that hindered early games that inspired Sea of Stars are nowhere to be seen. Simple actions like moving around the world feel great, the story picks up quickly, and farming experience is effectively unnecessary. It all leads to a smooth, consistently thrilling adventure with fun combat, all in a gorgeous and inviting world.
Overall, the reviews for this indie game suggest that it is very strong at its core, with some smaller step backs with the combat and narratives. Most colleagues enjoyed the visuals and music the most, and I can totally agree with them on this page.
The music is captivating and encouraged me to just stand there, take in the sight and just listen to the sounds. A wonderful experience right from the start with leaving a lasting impression on me.
This article contains affiliate links which are marked with [shopping symbol]. These links can provide a small commission for us under certain conditions. This never affects the products price for you.